Having made nine changes for the weekend SPL victory over Caledonian Thistle to conserve his strength for this event, Lennon switched nine again to greet the Old Lady.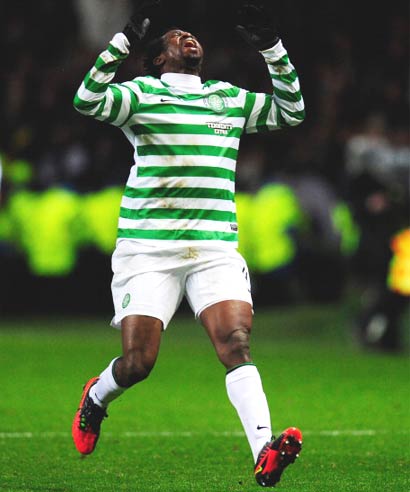 Celtic's extraordinary Champions League run hit the buffers last night as Juventus imposed themselves with a potent mixture of defensive mastery and cynicism to make their progress to the quarter-finals a formality. An early strike by Alessandro Matri, supplemented by late goals from Claudio Marchisio and Mirko Vucinic outweighed all Celtic's impressive effort and left many Hoops fans wondering about Neil Lennon's risky inclusion of Efe Ambrose, who was exposed twice in crucial situations.
Having made nine changes for the weekend SPL victory over Caledonian Thistle to conserve his strength for this event, Lennon switched nine again to greet the Old Lady.
Georgios Samaras - who had scored against all of Celtic's European opponents in this campaign - had failed to overcome the hamstring problem that had kept him out of action for two weeks, but that gave a chance to Efe Ambrose - almost straight off a plane on his return from victory with Nigeria in the final of the Africa Cup of Nations.
Emilio Izaguirre was restored to left-back, having recovered from a knee injury, and James Forrest was another fresh starter. Only Fraser Forster and Kris Commons retained places from the starting selection in the Highland capital.
Meanwhile, Juve - conquerors of Chelsea in the group stage - were able to restore Leonardo Bonucci after a domestic suspension for Juventus but Antonio Conte had once more to deploy his side without Giorgio Chiellini, still an injury victim.
Three questions suggested themselves immediately. Without Samaras as an outlet, how would Celtic impose themselves upon the Serie A leaders, splendidly competent in defence? How would they shackle Andrea Pirlo, the deep-lying Juve playmaker?
And how would Ambrose react to the debilitating effects of his weekend efforts and intervening travel? Ominously for Celtic, that conundrum was resolved within moments of kickoff. Surfing on the billows of passion from the stands, the Hoops swept forward and although Wanyama overran the ball against Pirlo and lost it, the Kenyan regained possession and strode on to strike a 30-yard grounder which Gianluigi Buffon scrambled around the post.
From the corner kick Ambrose shot narrowly wide but the centre-back was instantly exposed by the simplest move in the book, a punt upfield from the Juve defence which caught him in two minds and allowed Alessandro Matri to fasten on to the dropping ball and slot it through Forster's legs. The ball crossed the line, although Kelvin Wilson scooped the ball out again - the match officials did not signal a goal - but the defender's attempted clearance was anticipated by Claudio Marchisio, who drove high into the roof of the net to guarantee that Juve's scoring record would, one way or the other, extend to 19 successive games.
This could have been a body blow but Celtic came off the canvas as though nothing untoward had occurred. Remarkably, the territory they found most productive was immediately behind Pirlo and in front of Buffon's penalty area. With 10 minutes played - and at an unsustainable tempo - a pattern had emerged, with Celtic pressing and shooting on sight of goal but taking risks with two on two at the back which Juve repeatedly attempted to exploit with deft chips over the top from midfield.
Brown had been detailed to deny Pirlo access to the upfield channels and the Celtic captain made a vigorous job of his assignment, but when a slip allowed his opponent off the leash midway through the half the Serie A leaders could easily have doubled their advantage. Pirlo swept a pass ahead of Vucinic, who romped around Forster but was forced too wide to get his finish on the mark.
The game took a sour turn as the Juve defenders realised that they were being indulged by the Spanish referee in their rough treatment of Hooper, who - after being manhandled by Buffon - gave his opponents the satisfaction of seeing him lose his temper in a clash with Stephan Lichtsteiner, both of whom were cautioned.
The second half presented Celtic with an opportunity and a difficulty. On the plus side, Juve were clearly vulnerable on their left, but Forrest was unable to make sufficiently menacing inroads and Hooper lacked the physical presence to disrupt three top class centre-backs in Andrea Barzagli, Leonardo Bonucci and Martin Caceres.
Otherwise the most promising route was from set-piece play and, sure enough, Celtic's first outstanding chance came from a corner kick played short by Commons to Charlie Mulgrew who placed a typically precise cross on to the head of Ambrose. The Nigerian, though, looked bemused by his clear view of goal and merely bounced his header into the arms of Buffon.
Celtic's extraordinary pace began to expose fatigue in the Juventus ranks and Tony Watt was sent on to add to the Hoops' pressure but before he could get into the match Celtic were sucker punched. This time Matri was the provider and Marchisio, with a deft sidestep past Brown, finished with a rifled shot past Forster.
The coup de grace was administered with six minutes remaining when Ambrose allowed the ball to lodge between his boots and was robbed by Vucinic, who beat Forster to finish the tie before making way for Nicolas Anelka.