NBA star Dwight Howard's sibling Jahaziel says they cleaned buildings to earn money in their younger days.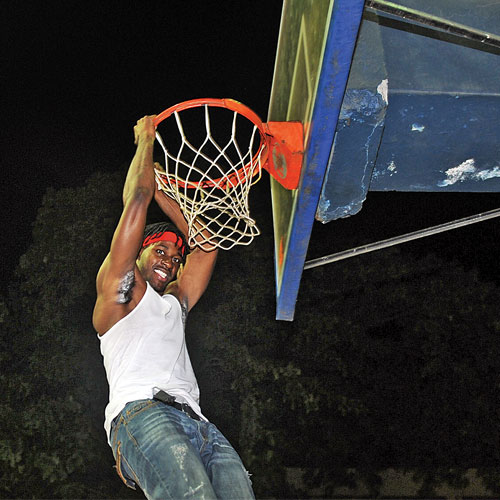 Basketball runs in his blood. His parents played the sport and his brother is an NBA superstar. Jahaziel Howard – brother of Dwight Howard (who plays for Houston Rockets) – says the road to happiness wasn't smooth for the family and they faced many hardships before finding fame and money.
Jahaziel, who is in the city for the All India 9th Savio Cup Basketball Tournament representing USA Sportspower, started dribbling along with his brother when he was a three-year-old.
"I was three, Dwight was seven and we had quite a ball. Later on, we played in the same team in our high school (South West Academy) and won championships," recollects the 24-year-old.
Jahaziel says the going was tough when they were young. "Our parents had two-three jobs and we used to clean buildings in our area to earn money. We also went fishing in our valley," he says.
Talking about the sport and how they mastered the art, he says: "Both our parents stayed out all day and when they came home at night, they expected to find us sleeping but we used to play basketball all day long inside our house. We made a basket out of shirt-hangers and a fishing net and dunk whole day.
"Later on, Dwight and I used to get spanked by pops (father). At times, we pretended to be sleeping whenever we heard their footsteps approaching," he says with a chuckle.
Few know that Dwight can be quite an entertainer beyond the court and has a musical side. "He is quite a character, always making people laugh. The teammates come home frequently with mom cooking some delicious food. Dwight and I perform songs. He sings, raps and I play the guitar. He also loves Gospel music," he says.
"We even hang out with Kobe (Bryant) and LeBron (James). LeBron's mother and mine are very close but I think Kobe is a little upset with Dwight since he left Los Angeles Lakers," he adds.
While Dwight stands 6'11" tall, Jahaziel is comparatively short at 6'5", nevertheless, the younger one has played the NBA development league – the road leading to the big league.
However, Jahaziel says there is both a good and a bad side to being a celebrity's brother. The good side being the love people have for his family but there is always a risk of being mobbed whenever he is out with his brother. "I have gone for his matches since childhood. I think he manages his stardom very smartly. He is a humble human being. Being a preacher and doing service in the church makes him even more special, he is a people's man," he says.
While Dwight had to forego his college, Jahaziel could not. "I wish I could, but I had to do two years of college since it became compulsory during my time."
Nonetheless, Jahaziel did all he could coming to India. From holding a cricket bat to digging in Indian food.
"I could not hold back the temptation of holding a cricket bat. I played street cricket with kids near my hotel. The bat looks so cool. And I am used to Indian food as I eat it back in Orlando in the restaurants," he added.
But the hoopster's one wish is yet to be fulfilled. "I wish I could meet some Bollywood people. Slumdog Millionaire is my favourite movie and I loved the girl who played Lathika (Freida Pinto)."