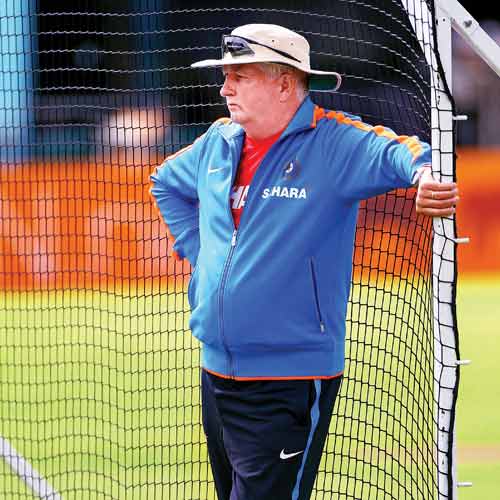 But for his senior-citizen status, rotund exterior and fashionable preoccupation with the team's training outfit, Duncan Fletcher has all the attributes of an elite commando. With a pair of roving eyes hidden behind dark sunglasses and a stony face which gives nothing away, Team India's head coach goes about his business without fanfare.
Fletcher follows a set pattern during practice sessions. Adopting a Shiv Chanderpaul-like stance but never grounding the bat, he feeds the slip cordon with all kinds of edges.
"Good catch," he remarks the moment R Ashwin, Virat Kohli, M Vijay and Ajinkya Rahane pouch a tough one. "Eyes on the ball, eyes on the ball," he yells, if otherwise.
Minutes later, he uses the bat like a badminton racquet and "serves" steeplers to the players who field in the deep. "Forget it, come back," he says if the cherry is way out of reach. "Faster, faster, faster… oh, great catch," comes the pat on the back after Ravindra Jadeja takes blinder running backwards. That's that.
Fletcher then takes his place behind the nets and stays put till the top seven batsmen are done with their stints. A shake of the head here, an appreciative nod there and that's it. One saw the likes of Vijay and Cheteshwar Pujara walk up to him on a couple of occasions over the past few days. Sometimes, the one-on-one sessions would last over 10 minutes, with Fletcher repeatedly signalling the importance of possessing a not-so-high back-lift in these conditions.
The two-match Test series, starting here on Wednesday, is being billed as a big test for India's young and inexperienced batting unit. What we mustn't forget is that it will be as important an examination of Fletcher's effectiveness.
Since the 65-year-old took over the reins of the Indian team after Gary Kirsten's departure in April 2011, MS Dhoni & Co. have had a torrid time in foreign conditions. Apart from beating the West Indies 1-0 in 2011, India haven't won an overseas Test under Fletcher. Whitewashed in England, whitewashed in Australia and then humbled by England at home, Fletcher has overseen 10 Test defeats in two-and-a-half years. His only significant achievements are the ICC Champions Trophy triumph and the 4-0 win over Australia at home.
But like Kirsten, Fletcher enjoys immense support of the players and, of course, the BCCI, which gave him a one-year contract extension (up for renewal in April, 2014). "See, I think no failure can be pinpointed upon the support staff sitting back," off-spinner R Ashwin said a few days back. "As players, we have to accept the failure and say, 'Yes, we have failed as a group'. A person cannot go through the entire 11 players on the field, and what's going through their head and all that.
"The support staff can definitely facilitate you from behind. Their role is always about creating a good environment. Having good facilities to practice and try and aid somebody who is going through a lean patch, and all that. On those regards, he has never been short of what he has done. We had poor tours of Australia and England, but he has always been on the mark in terms of arranging practice and in terms of what guys want, going to them, talking to them."
Ashwin spoke about Fletcher's desire to make a difference. "There are two things: wanting to make a difference and actually creating a difference. (For) creating a difference, the player also needs to play a role."
For a man who took an average England side to big heights during the eight years he was in charge, Fletcher knows what it's like to make a difference. Yes, he had an ageing middle order to contend with during the tours of England and Australia. Now, he has a young team at his disposal. Will the batting guru in him help India draw, let alone win, a series in South Africa?
INDIA ABROAD UNDER FLETCHER TESTS
West Indies 2011: India won 1-0
England 2011: England won 4-0
Australia 2011/12: Australia won 4-0 ODIs
West Indies 2011: India won 3-2
NatWest Series 2011: England won 3-0
CB Series 2011-12: Won 3, Lost 4
Asia Cup in Bangladesh 2011-12: Won 2, Lost 1
Sri Lanka 2012: India won 4-1
ICC Champions Trophy 2013: Winners (Won 5, Lost 0)
Caribbean Tri-Series 2013: Winners (Won 3, Lost 2)
Zimbabwe 2013: India won 5-0
—Arun Gopalkrishnan