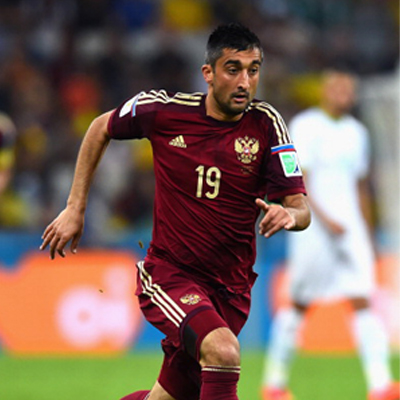 The massive wages paid by Russia's domestic clubs mean good players tend to spurn the chance to go abroad and improve their skills, a factor which helped trigger an early World Cup exit for the national team.
The failure in Brazil will also raise concerns about the side's prospects in 2018 when Russia hosts the tournament.
Right now the squad is clearly not good enough to compete at the top level. The Russia players in Brazil lacked ability and class and found it hard to keep hold of the ball.
"I believe that playing abroad helps everyone to improve and mature... playing in our own championship all the time and not having to face up to different environments, it's much harder to improve," Russia's Italian coach Fabio Capello said.
There are also concerns about the number of foreign players in Russia and inadequate youth development. "This is the problem with our team - a country with a population of 150 million people can't find 23 players capable of creating a competition for places," player agent Dennis Lakhter told Sovietsky Sport newspaper.
An uninspired Russia huffed and puffed their way through a 1-1 draw with South Korea, a 1-0 loss to Belgium and the 1-1 tie against Algeria on Thursday that saw them eliminated.
NO SPARK
Since Russia gained independence in 1991, the only time the team have performed well at an international tournament was in Euro 2008 when a side inspired by mercurial forward Andrei Arshavin reached the semi-finals. Arshavin is now out of the picture and when Russia lost midfielder and captain Roman Shirokov in the run-up to the tournament in Brazil, the team was left without much spark.
Worse, to the bemusement of commentators, the one player who might have offered something different spent most of his time on the bench. Attacking midfielder Alan Dzagoev shone at Euro 2012 and ended that tournament as joint top scorer, yet Capello only brought him on as a substitute in all three matches here.
The debate over Dzagoev aside, Capello took the best players available to him, and few of them impressed anyone. Goalkeeper Igor Akinfeev is supposed to be one of the best in the game but he made big mistakes that cost his side goals against South Korea and Algeria.
To make matters more complicated, Capello could not communicate directly with his players and during the South Korea game he could be seen bellowing for an interpreter to pass on instructions.
WORK AHEAD
Russia have now appeared at three World Cups since the dissolution of the Soviet Union in 1991 and gone out at the first stage in each of them.
Speaking before the Algeria game, Capello said he thought his team had made progress. "This has been an important step to understand the level of Russian football and what we need to do in view of the (next) World Cup," he said.
Given Russia's poor performances, the answer is clearly a lot. Yet, as hosts of the 2018 tournament, Russia will qualify automatically, which means they only have Euro 2016 to test their strength competitively against other teams.
Capello also appeared to back a recent decision to cut the number of foreign players that top Russian teams can field to six from seven next year. "For the national coach the more Russia players who can play the better it is. You have more choice," he said.
Yet midfielder Alexander Samedov - echoing some prominent Russian commentators - said the talk of too many foreign players was overblown. "The problem is deeper than that. We need to look at conditions at children's schools and soccer academies," he said.