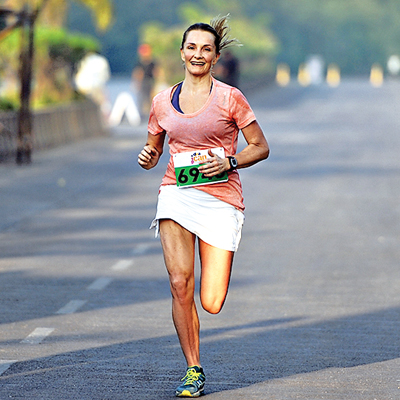 While participants of the 'dna I can' run for women were resting after finishing the race on Sunday, Nina Hamre from Norway, who came third in the 10km run, was busy thinking of how she used to celebrated Women's Day in Norway.
"We have a 50km cross country ski marathon for women on March 8 every year," she said, going nostalgic. "Every Women's Day, I used to participate in the skiing marathon. But since I've moved to Mumbai five years ago due to work, I miss that sport. It's nice to have something to remember Women's Day by," Hamre said appreciating dna's initiative.
"In Norway, I used to go skiing for 15km on weekdays and 20-30km on weekends," she said. "It's a very nice sport as you need to develop a certain kind of technique and maintain the right balance."
Isn't skiing dangerous? Has it not left Michael Schumacher in a coma for more than two months? "Well, it's not dangerous as we don't ski on steep slopes. It's more of fun and staying fit," she said.
In Mumbai, she runs on Carter Road twice a week, and practices yoga too.
Doesn't she miss Norway? "There are a lot more people around here," she laughs. "And I'm in love with the food. It has so much of spice, unlike the bland food in Norway," says Hamre, admitting that she can't do without eating south Indian food. "My favourite is appam."