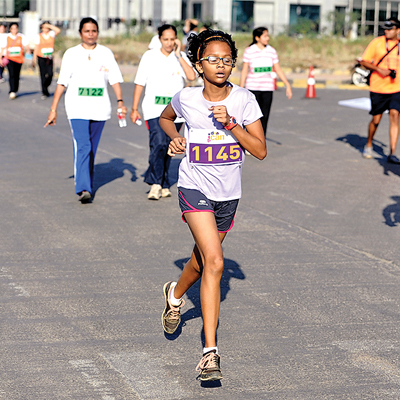 She's only 13, but is running away to glory. Quite literally.
Pranita Bandi was the surprise element in this year's 'dna I can' women's half-marathon, finishing third in the 5km run, with a timing of 23:55s. What's more, it was the first time that she took part in the run.
So what made her decide to run this year? "I just wanted to win something," she said, with a wide grin on her face after receiving the second runners-up award.
The Class XII girl trains at the Achievers Sports Club in Thane every evening for 90 minutes with coach Nilesh Patkar. Studies notwithstanding, she wants to pursue running as a career in the future.
Her passion for running is in-built, for her mother, Sunita, was a national level athlete. She accompanied her daughter on Sunday, and naturally, was a very proud mother.
"I saw the talent in her at a very young age. We encouraged her to pursue it, and what made it easier was that she is also very good in her studies," she said.
Though happy with the result, Sunita said she expected her to come second. "But that's alright," she added. "Next year, she will surely come first."