Champion bowler, super coach, military disciplinarian...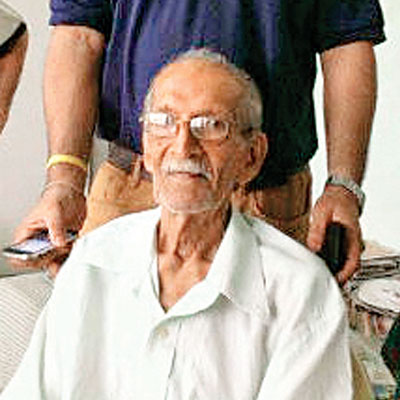 The city's cricketing fraternity suffered another huge loss as former Ranji Trophy cricketer-turned-coach Vithal 'Marshal' Patil passed away on Tuesday. He was 86. Patil, a bachelor, died due to age-related ailments at his Matunga home. Patil's demise comes barely two weeks after the passing of Madhav Mantri.
A medium-pacer, Patil played only two Ranji Trophy games for Mumbai in the mid 50s. Known for swinging the ball both ways, he was a highly successful club cricketer. He picked up a whopping 759 wickets in the Kanga League, a record which still stands.
Patil was a phenomenal coach, too. He coached Dadar Union and Podar College. His prodigies include the likes of Dilip Vengsarkar, Ravi Shastri, Sanjay Manjrekar, Shishir Hattangadi and Rohan Gavaskar, all of who played for Podar.
Former India skipper Vengsarkar was saddened by Patil's death. "He was my first coach at King George High School in Dadar. I vividly remember my first Giles Shield match against Cathedral and John Connon School. I was 12 then. Patil Sir was there at Cross Maidan. He guided me right till I graduated from Podar College. He was a staunch disciplinarian, extremely punctual and hugely passionate about coaching young boys. As far as I know, he would be the first to turn up at the ground, decked up in a crisp shirt and polished shoes. I think all those things have rubbed off on us," said Vengsarkar.
According to old-timers, Patil was affectionately called 'Marshal' because of his military-style discipline. Suresh Tigdi, his Dadar Union teammate, was known as 'Major' and Madhav Mantri 'George', after the legendary West Indian George Headley. In fact, Dadar Union was such a well-oiled machine that people compared it to the Army.
Former Mumbai cricketer Hattangadi called Patil "a guiding force". "I am very sad today. He was a guiding force in our life. He gave a lot of attention, cared, mentored and guided us," said Hattangadi.
Patil was also passionate about bowling. "You could see him bowling continuously from one end in a Kanga League game. Such was his passion for bowling that one day he took a new ball to a wedding so that he could get the feel of holding the ball!" revealed Hattangadi.
Former India batsman Sanjay Manjrekar, another of Patil's students, was one of the first to visit his departed guru's home on Tuesday. "These are rare people who lived exceptionally by example. These are disciplinarians who didn't put a foot wrong. These were committed people. Their gift to us was honesty and commitment," Manjrekar said.
Elaborating Patil's style of coaching, he said, "He has left a legacy. He made all of us decent players of fast bowling as Podar nets was all about fast bowling and little about spin. As a coach, he mostly believed in net practice. There was a way we practised under his watchful eyes during our formative years. He ensured all his main students — batsmen — got to play against good quality bowling."
Manjrekar went on, "When I was a member of the Mumbai Cricket Association's Cricket Improvement Committee, we invited Mumbai coaches to give feedback. Very few people turned up, but this man, who was 80, still turned up. That shows how much pride he took in his job. This is what we will miss."
Patil will be cremated on Thursday.