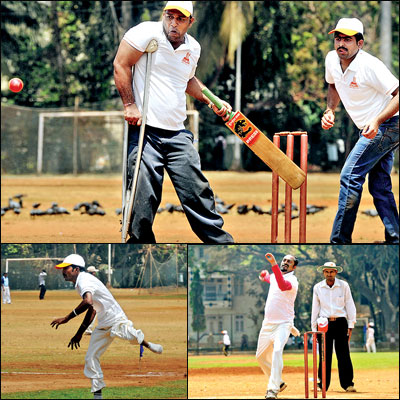 It's all in the mind they say. Certainly so for 40-year-old Mahindra Pitale. The Mira Road resident lost the lower half of his left hand in the 2006 Mumbai train blasts. Leaving early from Vile Parle that day sure came at a price for him. But it made him fall in love with cricket all over again and on Wednesday he along with many others came together to participate in the 2014 Mayor's Cup for the disabled held at Shivaji Park, Dadar.
Thanks to a prosthetic lower arm, Pitale is now able to take the field once again and he says it isn't a tough ask. "My arm is a very small problem. Look at those without limbs, who love the game so much and are sweating it out on the field. The 'normal' come to us and say they want to start playing after watching us. But we 'different' people, seek inspiration amongst ourselves. Our love for cricket is certainly not 'normal'," says Pitale.
The eight-over a side format sees teams from Maharashtra, Gujarat and Karnataka fight it out for the top prize. The ball is softer compared to the season ball taking into account that some of the batsman are unable to wear batting pads and helmets. Seeing the ball swing and spin surely tells you how much the bowlers have taken to their game. But seeing players on crutches smash the ball out of the park makes the battle between bat and ball a fair contest. But that takes nothing away from the quality of cricket played.
"The way we dive for the ball despite our disabilities tells the whole story. Every run is valuable. Why should our level be any lesser than the normal game. Cricket is cricket. It's 11 there, it's 11 here," says Pitale.
Vasudev Dangyia (42) won't be operating his PCO booth at Borivali on Wednesday and Thursday. Dangyia marked out these two dates on his calendar the moment he came to know about the schedule.
"I may use a stick to walk but the energy that sinks in once we step on to the pitch compensates for everything. We don't see the heat and our disability. The only thing that we do see is the bat, the ball and the stumps. Nothing else matters," says Dangyia, who was infected with polio on his left leg.
The mood was electric with the cheers from those watching. They had surely won hearts, but they had their eyes on the prize. It brought a smile on the faces seeing runners for the batsman take small steps struggling to complete their run.
"Come and watch us play tomorrow. You'll fall in love with the game immediately," says Gurunath Reddy, infected with polio in his left leg.