As fifth and final Test against England looms and India look at their options to try and square the series they trail 2-1, Derek Abraham sticks his neck out to suggest the playing XI Dhoni could pick on Friday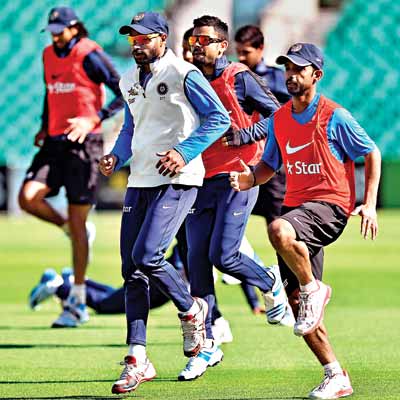 1) Shikhar Dhawan
Yes, the spunky southpaw did not inspire much confidence in the first three Tests, but can somebody in the team management explain why he was replaced by Gautam Gambhir? Here's a player who hasn't scored a Test hundred in three years. What's more, he was selected even though he provided no proof that he had overcome his technical flaws. Not surprisingly, he fell cheaply in both innings. After Stuart Broad had him caught at gully in the fourth over of the match, James Anderson got him to glove a loopy ball to the wicketkeeper. Gambhir never looked at ease in either outing. Of the two, it's Dhawan who has, at least, looked like scoring runs. Get him back.
2) M Vijay
With scores of 146, 52, 24, 95, 35, 12, 0 and 18 in this series, the Chennai-based opener is second only to Garry Ballance in the run-making charts. Let's just hope he's a touch circumspect early in the innings. Once he has squashed the butterflies, we can expect him to get another big one.
3) Ajinkya Rahane
This might seem a tad audacious, but the point is that your most improved batsman deserves a promotion in the batting order. This is not to suggest that he has overtaken Cheteshwar Pujara or, for that matter, Virat Kohli in terms of utility. Anything but. However, going by his current form and that of the two aforementioned batsmen, Rahane must bat at No. 3. In any case, the Mumbaikar has either opened or gone in at one-down all his life. With nearly 300 runs in eight outings, inclusive of a match-winning ton at Lord's, Rahane has looked the most comfortable of the lot. His promotion will also offer Pujara and Kohli some breathing space.
4) Cheteshwar Pujara
The longest Pujara has had to wait with his pads on in this series is 14 overs. Touted — unfairly or otherwise — as the next you-know-who, the Saurashtra batsman's rock-solid technique hasn't come to his rescue in England. For someone who averages over 51 after 23 Tests (lest we forget most of them were home games), his returns of 26 per innings in four matches belies belief. He is much better than that and we know it. Dropping down a spot on No. 4 will do him no harm.
5) Virat Kohli
He may be on his way to becoming the undisputed king of ODIs, but when it comes to Test cricket, Kohli has to tie up the loose ends. That he has a problem with deliveries outside the off stump is common knowledge now. That's not a sin. But not working on that problem certainly is. After all, the flaw has persisted for too long. Kohli has tallied just 108 runs in this series. He is one of the most hardworking players around and we can be rest assured that he's working on it. But for now, he needs to bat down. The ball will be slightly older by the time he walks in and that will enable him to go for his shots.
6) MS Dhoni
There aren't many complaints against Dhoni the batsman. At least not in this series. But what about Dhoni the skipper? Defensive, rigid, clueless and thoughtless are just some of the adjectives that come to mind. You can actually write a book on his flawed methods dating back to the tour of England in 2011. If he doesn't arrest this slide, he could well become the captain with the most number of Test losses in history by the end of this year. And what about Dhoni the wicketkeeper? The less said the better. It's time Dhoni joined hands with Duncan Fletcher and Trevor Penny, and come up with new training methods for the slip catchers. More importantly, he must be part of these sessions. Armed with a pair of gloves that could put a crocodile's jaw to shame, he must go for the catches between him and first slip. Way too many chances have gone abegging in that region.
7) Stuart Binny
His match-saving 78 in Trent Bridge earned him a lot of praise. But he failed to carry that form into the Lord's Test. Also, he was underused as a bowler. Now that there are enough specialist bowlers in this (prospective) XI, Binny can play a batsman who may roll his arm over whenever required
8) R Ashwin
Why he didn't play ahead of Ravindra Jadeja beggars belief. What adds intrigue to the argument is that Moeen Ali, who started the series as a strokeplayer who could bowl a bit, is now a frontline spinner with 19 victims. Imagine the threat he could pose on subcontinental wickets. Back to Ashwin, and he must stay away from bowling those funky variations of his. Stick to the plan, get wickets and score a few runs too. He is the No. 1-ranked all-rounder, after all.
9) Bhuvneshwar Kumar
After a stupendous run of form earlier in the series, Bhuvneshwar has looked tired. Maybe he isn't used to bowl non-stop across four Tests. That can be condoned, but now that Team India have enjoyed two extra days of rest after the capitulation in Manchester, the Uttar Pradesh seamer must be up and ready to go full throttle at The Oval.
10) Ishant Sharma
Going by reports, the hero of India's Lord's win has supposedly recovered from a leg injury that kept him out of the third and fourth Tests. But let's juts hope he doesn't bowl like the Ishant we have been used to seeing in the last few years.
11) Varun Aaron
This guy has some serious pace. All he needs is some direction. Dhoni should use him in short bursts.