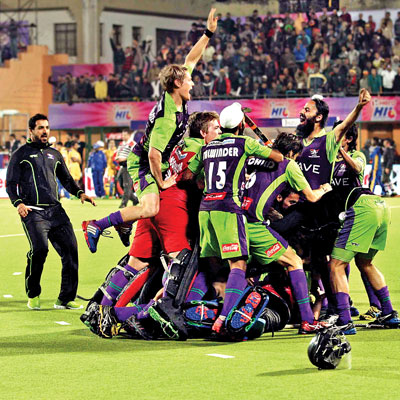 It had all the makings of an electrifying final. It sure lived up to it, and how!
Delhi Waveriders defeated the Punjab Warriors via penalty shootouts to emerge champions of the second season of the Hockey India League in Ranchi on Sunday.
There was little to separate between the two high-profile teams, and the 3-3 scoreline after the regulation 70 minutes proved that. It meant the champion had to be decide in the shoot-out, and the Waveriders seemed clearly better prepared, winning it 3-1.
the win was befitting for the Delhi outfit, who finished runners-up last year.
The star of the day was Waveriders goalkeeper Nicolas Jacobi, who not only made some brilliant saves in the shoot-outs, but also in the match to ensure the attacking Warriors did not run away with the game. Jacobi stood tall in the shoot-outs to deny the Warriors an early lead. In fact, the Punjab outfit missed their first three attempts before Robert Hammond finally converted one.
But the Waveriders did their job to perfection. The Sardar Singh-led team scored three out of their four chances in to take the game and the title away from the Warriors.
The win ensured that Delhi took home a cool Rs 2.5 crore prize money, while the Warriors pocketed Rs 1.25 crore.
Back to the match, and the Warriors started at their attacking best and scored the first goal as early as in the second minute of the match through Mark Knowles, who scored from a field effort.
While Warriors continued to attack, Waveriders managed a penalty corner but failed to convert it. Waveriders also started penetrating the circle frequently and found the equalizer towards the end of second quarter.
The third quarter saw exhilarating stuff with the Warriors netting a brace to go ahead one again. But the Waveriders managed to sneak in their third goal to take the match to the shoot-outs.