Former India skipper defeats Wadiyar to become president; Srinath, Prasad take over as secretary and vice-president respectively.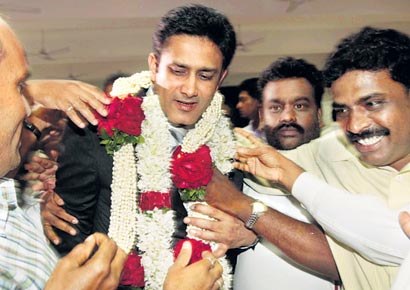 After clearing many a hurdle on the cricketing field, Anil Kumble and Javagal Srinath passed their first test in electoral politics with flying colours as their team swept the Karnataka State Cricket Association (KSCA) polls on Sunday.
While Kumble beat outgoing KSCA president and scion of the Mysore royal family, Srikantadatta Narasimharaja Wadiyar, by 43 votes in a tough fight for the president's post, Srinath had an easy outing as he beat former ICC panel umpire AV Jayaprakash by a huge margin of 245 votes to become secretary. A total of 1,080 votes were polled out of the 1,489 voters.
All 12 members of Team Kumble won. Former Indian players Venkatesh Prasad and Roger Binny, who were also part of Kumble's team, were elected vice-presidents along with Sadanand Mayya. Vijay Bharadwaj and Sujith Somasunder were elected to the managing committee. Tallam Venkatesh retained his position as the treasurer.
It emerged late in the night that Kumble & Co have won 22 out of the 24 managing committee seats.
"It's a great feeling to be part of the election process. It's first time for most of
us and 12 out of the 12 individual members have been elected," said Kumble after winning the polls. "As a player, I used to go to the ground straight, passing through the offices, but from tomorrow, I have to stop before making my way to the ground. Our focus was the team and I am happy we have been elected," he added.
Kumble pointed out that his team will start work on Monday, but asked for some time. "You can't expect a miracle. This is a great start for us and this is what we wanted to achieve. We will try to fulfill the aspirations and I think that three years is good enough time to measure our work," said Kumble, adding that he would also like to see KSCA as a model association, where cricketers are at the helm of affairs. "Our idea is to first make KSCA a model association by delivering what we had promised. It's a great challenge."
Meanwhile, Srinath said, "I don't know about myself, but Anil fought really hard in the election. We belonged to neither group and we are for cricket. And I think even the voters realised this fact," Srinath added.
Despite an easy win, Srinath admitted that there were some anxious moments during the counting phase. "It had been a terrific experience and there were some anxious moments, especially during the counting," he said. "But the good thing is that unlike last time, we don't have a fractured mandate this time around. It will be a new day tomorrow," he added.
The former India pacer said the managing committee would work like a team. "All the 24 members of the managing committee will take responsibility and all of us will work together and work will be delegated," said Srinath.
Venkatesh Prasad maintained that with victory comes a lot of responsibility and the team will try and do its best. "There are lot of expectations from the voters and we would like to shoulder the responsibility," said Prasad.