How Moyes copes in a crisis - by those that know him best. Mark Ogden talks to former players and colleagues of the United manager.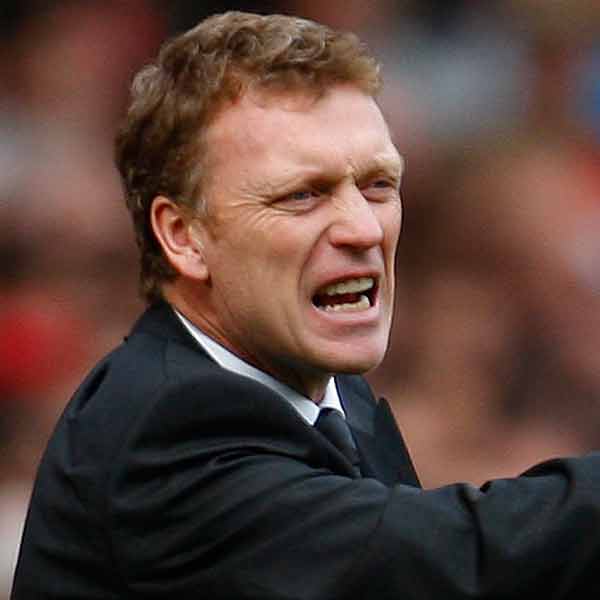 It was in a meeting room at Houston's Westin Galleria hotel, in the summer of 2004, when David Moyes crossed a rubicon which turned a managerial crisis into the springboard towards succeeding Sir Alex Ferguson at Manchester United.
The oppressive Texan heat outside the building mirrored the tension within it as Moyes's Everton squad assembled to be addressed by the Scot.
"Pre-season had started badly," Kevin Kilbane, the former Everton midfielder, recalls. "We lost at Crewe and Burnley and there was definitely a negative feel about the club because David was under a lot of pressure at the time.
"But we got to Houston, he brought us all together and called a couple of meetings where we were all encouraged to get things off our chest. He said he wanted ideas from us and was looking to listen and learn. It was a big change for him because he always had a real intensity about him."
David Weir, the senior player within the Everton squad at the time, admits Moyes had reached a stage where that 'intensity' had to change. "A 5-1 defeat at Manchester City at the end of the 2003-04 season magnified a few of the problems the team was having," Weir said. "I think it made David realise he had to change some things.
"He was always very intense, but on that trip to Houston, he took his foot off the gas a bit. He gave the players a bit more space, little things like allowing us to go the shopping malls and have more down time, and the players appreciated it. From that point on, the players and staff came together a bit more, little barriers came down and everyone was more relaxed because of it."
Ten years on, Moyes is facing the biggest challenge of his career at United, with the turbulence of Ferguson's departure borne out by the champions going into the fixture against Fulham at Old Trafford today languishing in seventh position and already out of both domestic cups.
If Moyes had a problem in Houston, the magnitude of the task he faces at United is on a wholly different level. However, those who have worked with the 50-year-old when he has wrestled with difficulties at Everton and Preston North End insist he has the credentials and toughness to drag United back to the top.
"At United, he is in a period of transition and facing something that is 99 per cent bigger than anything he has been involved in before," Weir said. "When things aren't going well, his approach would vary, but it was never difficult to judge his mood. He can't hide his feelings, but he will not dress over an issue, he will meet it head on. He will do things to the nth degree and if things aren't working, I suspect he will not be able to sleep at night because he is so driven to make things right."
David Healy, the Northern Ireland forward who was Moyes's pounds 1.5?million club record signing at Preston when arriving from United in December 2000, said: "I grew up in Belfast and you just develop a mentality, a toughness, that carries you through when things are hard and David has exactly the same background, coming from Glasgow.
"He has an inner belief. That is what struck me the first time I met him. He definitely has the credentials to tough it out at United and I think his upbringing is part of that. He has stepped into big shoes at United, but he doesn't lack the strength of character required. I saw similarities between him and Sir Alex. They share a real desire to be successful and that conviction that they will win."
Mick Rathbone, the physiotherapist who worked alongside Moyes at Preston and Everton, claimed that he was "like Rain Man" due to his analytical ability, a man who could assess and deconstruct an opponent's tactical plan "within minutes".
At United, Moyes has been criticised for one-dimensional football and a cautious approach, but when his Preston team was in the midst of a slump of seven defeats in eight games during the 2000-01 campaign, he responded by going for broke.
"We went to Portsmouth when we were really struggling, but David set us out 4-3-3 with three strikers and really went for it," Sean Gregan, Moyes's captain at Preston, recalls. "We won the game 1-0 and went on a winning run that took us the Championship play-off final, so I think that shows he has always been prepared to be bold and go for it. Back then, everybody played 4-4-2 and it was just bog standard, but David would talk about all sorts of formations - the kind that all the top teams are using now.
"He was always ahead of the game. We were in the third tier at Preston in the late-1990s, but even then, he was into nutrition, sports psychology and ProZone. I think we were using ProZone long before anybody else."
Brian McBride, the United States forward who played under Moyes at Preston and Everton, echoed Gregan's view of Moyes being a progressive coach.
"He is a guy who wants to learn about new ideas and broaden his horizons and one thing that still stands out is the day my loan spell ended at Preston," McBride said. "He could have just seen me off with a handshake, but he asked me to come in for a chat and we spent an hour walking around the training ground, talking about the game and my knowledge of US sports and what they do differently to what I had encountered at Preston.
"David was not afraid to do things differently to the norm, he wants to stay ahead of the game and that morning proved that to me. Sure, he will not have dealt with anything of the magnitude he now faces at United and I imagine he will take it all very personally. David isn't the kind of guy who will leave it at the office. If he isn't with his family, he is just focused on the job, determined to make things better. And he will."
Despite Moyes's commitment to new ideas - he has recruited John Murtough, the Premier League's head of elite performance, to take charge of the search for new methods at United - the Glaswegian can also be 'old-school', on and off the pitch.
Local journalists who covered Preston under Moyes referred to his airless office at Deepdale as 'Hitler's bunker', due to his fearsome persona, with one reporter warned he would 'never to get anything from me again' if he published a story about Gregan's contract. The story duly ran and Moyes stuck to his word.
Moyes's players also suffered from his disciplinarian streak. "He suspended me once for an altercation on the training ground," Gregan said.
"There was no Twitter or Facebook back then, so it never came out, but even though I was the captain and one of the club's most saleable assets, he suspended me. I was just being chippy with him and over-stepped the boundaries, so he made me walk back from training, for three miles in my boots, and warned the other lads not to give me a lift. They were laughing as they went past, peeping their horns, but I wasn't. It was a Monday and he suspended me for a week, but I went in on the Thursday, apologised to him and that was that.
"He drew a line under it, played me on the Saturday and we moved on to the point that, a few weeks later, he took me out for tea and we just talked football for a couple of hours. Then again, he called us all in one Christmas Day and sent us home as soon as we had arrived, just so he could make sure we weren't eating or drinking too much!"
Ordering Robin van Persie or Wayne Rooney to march three miles back from training is unlikely to work at United, but regardless of the characters involved, Kilbane believes that Moyes can, and will, get the best from Old Trafford's superstars.
"He knows how to handle top-class talent and he isn't afraid to deal with big characters," Kilbane said. "I'm sure he will be doing that at United."