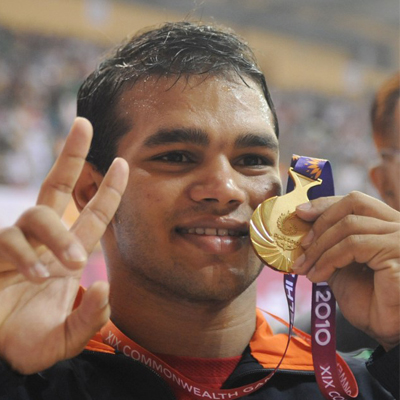 Once again the dominance of academics has played spoiler as one more Indian sportsperson got caught in the education dragnet. Crashed hopes and marred image are a result of an increasing emphasis on mandatory theory-based tests. Indian wrestler Narsingh Yadav's employment hopes hit a new low as the ace sportsman was caught copying in an internal exam at the State Police Academy in Nashik this week. He admitted to asking fellow candidates for answers, stating that he was never bright at academics.
Yadav, a Commonwealth gold medallist and Olympian and the son of a Jogeshwari-based (Mumbai) milkman, was selected for the post of a Deputy Suprintendent of Police (DSP) after winning the gold medal in the freestyle event at the 2010 Commonwealth Games.
He joined the police training academy after completing the formalities to finsh a two-year training program. He was eligible to become a Grade I officer provided he cleared the internal exam, the last evaluation step for any candidate. Earlier this year the Rajiv Gandhi Khel Ratna award, the country's highest sporting honour was conferred upon him for his Olympic heroism. The Class I job makes him employable in any central or state government department.
In a report published by a leading publication Yadav admitted to the botched up incident while appearing for the exam. He cited, being uneducated as the for the lack of preparedness for the exam. "I am not very highly educated," he said. He believes that written exam is not as big a deal as it sounds. He simply and casually states that not knowing answers for a few questions was the reason he asked around for help to the the other candidates. He felt guilty and he added "I realise my mistake and hope it is not made into abig issue."
The examination comprised of questions on law and policing. Prior to taking up the police offer, he had just completed graduation and was a junior ticket checker with the Western Railway.
"He was appearing for an internal examination and was disqualified after getting caught," said Naval Bajaj, Director of the Police Training Academy, in the same report.
Yadav is likely to face an enquiry, afterwhich a decision will be taken on whether to extend his training or dismiss him. Disqulaification of his victorious opponent from the final round of qualification for doping led to his participation in the Delhi Games, with him eventually winning the gold medal in the 74 kg men's freestyle category. He flopped at the London Olympics making a first round exit.