Polio and being blind in right eye doesn't stop Dadar resident Subramanian from competing in billiards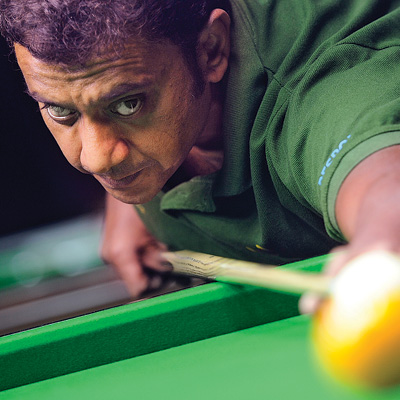 After Kabaddi, the latest sport to join the league bandwagon is Billiards. With the inaugural season of the Videocon Billiards Premier League under-way at the NSCI, Worli, sports lovers have something new to look forward to. Each sport has its own hero. Cue sport lovers need not look further than Raja Subramanian for one.
Subramanian knew about the word handicap much before he learnt about the cue sports definition of it. The 42-year-old resident of Dadar Parsi colony was diagnosed with polio when he was two. Further tragedy struck him when at age five, a cloth hanger pierced his right eye, blinding him for life. "I never took it as a disadvantage. I didn't lose my eyesight after playing the game. It could have been much worse. Adjusting my vision in line of the ball did take time. I lost my eyesight when I was five, but I took to billiards when I was 19. In those 14 years, there were a lot more things to focus on. Table tennis was my first love so my movement and eyesight shifted from a fast paced game to a slow one," said Subramanian who credits his success to former two-time World Champion Wilson Jones with whom he used to train at Matunga Gymkhana.
The eight-day tournament will also see the likes of Devendra Joshi and Ashok Shandilya — who won the World Billiards Team Championship at Glasgow — take part. At the same time, it gives players from the local city circuit to be a part of the competition and compete with big names. "The competition serves as excellent preparation for the World Billiard Championships that will take place in Leeds in October. This should have started earlier but it's better late than never for us billiards players," said Shandilya.
The eight-day tournament may be a closed-knit affair during it's first season, but plans have already being made for the next edition that is scheduled for a February date next year. "A good thing about the owners is that they have been former or current players of cue sports. So there still remains a connect from their side. Like how you see in the IPL auctions, we will have the same with teams have a certain budget and players having a base price," said Derek Sippy, Joint secretary of the Billiards and Snooker Association of Maharashtra (BSAM).
Billiards and other cue sports are a niche, so how does it reach the Indian household is what Sippy, Subramanian and the others will be busy till February. "It started with Mumbai, but we are looking at Bangalore, Pune and Delhi as other host cities. All that we need is the corporate backing and a bit of glamour quotient to get the sport where we all want it to be," said Sippy.
With there being pin drop silence being maintained, will the audience keep their emotions in check should the matches next season be played in front of a packed crowd?
Subramanian surely thinks so. "Look at the crowd at Wimbledon. You have the best of Tennis happening right in front of you when the likes of Federer, Nadal play. But no one dare cheer them during the points. If it can happen there, why not here."