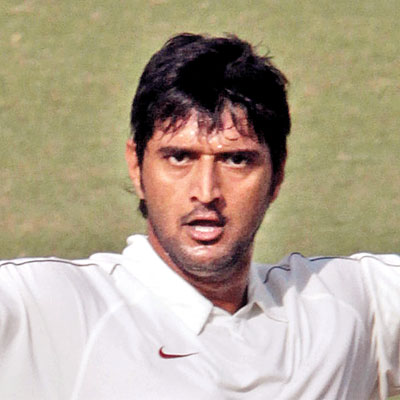 Usually, a youngster getting an India call-up knows no bound to his excitement. But for 29-year-old Pankaj Singh, it was something he has been expecting for a few years. So, when he was named in the 18-member squad for the England tour, it was more of a 'relief' for the Rajasthan seamer.
Singh on Wednesday was rewarded for his consistency in the Ranji Trophy over the years by the Indian selectors as they sat down to pick players for the ODI series against Bangladesh and a long tour of England that includes five Tests, seven ODIs and two T20s.
Singh, who was selected for the 2007 Australia tour and then played an ODI against Sri Lanka in 2010, was not able to break into the squad again for reasons known to the captains and the selectors. When dna asked for his reaction on being picked, his answer was bland. "I am happy," he said. "I have been expecting this for a while," he added without elaborating.
"There were some expectations that I will be in the team and now I'm happy," said Singh, who finished his Ranji Trophy season as the fifth highest wicket-taker with 39 wickets.
"After a long time I have got a call. I have been working hard for a long time and now that it has come it has given me a big relief," he said.
Despite being ignored time and again even after being consistent, Singh continued to motivate himself thinking that one day he would get the India cap. "Being a sportsman my job is to keep working hard. I have always wanted to do well and kept working and that belief has only helped me reach there now," he added.
Singh doesn't want to lose this opportunity. "Obviously, I would like to go there and do well. I have got an opportunity which is really difficult to get. I would try to do my best and perform. The motivation is the most difficult thing and now that I have got the opportunity, I would not like to lose it," he said.
Singh like his other domestic counterparts is not a part of any IPL team, but he is happy that Ranji performers are getting recognised. "It is good that Ranji Trophy players are getting opportunity and the performances there are being counted. Despite not playing IPL, getting into the team is important," said Pankaj.
The seamer said it was a big emotional moment for him. "It is a very big relief and an emotional moment. My dream has always been to play for my country and I am glad that I have got it now," he concluded.
Pankaj Singh
In 2013-14 Ranji Trophy
Mat Wkts BBI BBM Ave Econ 5w
8 39 5/30 8/112 22.46 2.76 3
First Class
Mat Wkts BBI Ave Econ 5w 10w
77 300 8/32 25.52 2.91 21 4