Being healthy is a New Year resolution for many this 2014.
Here is starting the year with an entertaining enthusiastic sport which is indoor cycling.
Spinning or indoor cycling is a sport which has gained importance in recent times in fitness for burning calories and keeping your muscles in shape.
Baqar Nasser's Spinnathon is happening this year on January 12 in the heart of the city of Mumbai at High Street Phoenix Mall, Lower Parel.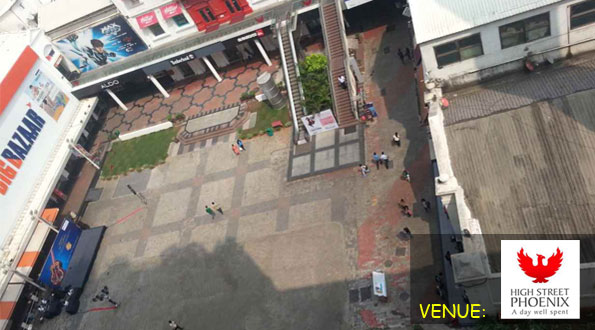 Spinnathon is the biggest indoor cycling competition all over Asia. There are top 50 participants selected out of 7,000 riding at their best on static exercise cycles by the specialists and trainers for the competition. The cyclists are given expertise training for 2 months before the actual competition. The event is a fun-filled event with the spinners riding to the beats of music by DJ Suketu, Drums by Jonqui & live singing by Sukanya Gosh.
Along with this, the event supports a cause of educating the under privileged kids.The guest of honour for the event is Sunil Shetty. You can witness a fashion show like no other,the participants will flaunt their unbelievable body transformation from fat to fit!
Event starts at 6.30pm Sharp and ends by 9.45pm.
For further details log on to Official Website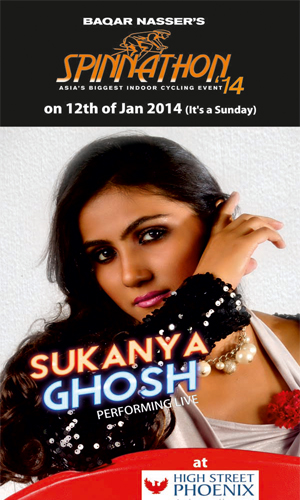 Health tips from Baqar Nasser who is the founder and organiser of Spinnathon-

"Training too easy will not make you burn much of calories,where as training excessively will not only give you weight loss but also will burn your muscle. That's why what I say is DON'T TRAIN HARD BUT TRAIN SMART. One also need to take care of the diet. Diet plays a very important role in life. If you are burning calories by doing any form of exercise, whether swimming, cycling, running, jogging, skipping or any format of exercise even weight training, but if you don't eat right,everything will just bounce back.
You are burning around 500 to 1000 calories but consuming upto 2000 to 3000 calories, its not going to make sense. You will definitely become stronger in life but you wont achieve that look in the body that you desire. You need to take care of your diet program. Third comes is your sleep and one need to take rest, recover and recharge for the next day because being fit is not the only criteria, our daily life is our main criteria.
So if you don't sleep, you wont be able to have a normal daily life. So your training comes in, your diet comes in and your sleep comes in. So eat, Sleep and workout.
GET UP, GET FIT at TOPSPIN."
Spinnathon is happening because of the combined efforts of the complete organizing committee; the right hand man of Baqar Nasser, however Sanket Chheda has been the driving force behind the entire operation. At a very young age of 20 this lad has taken it upon himself to make the event bigger and better than ever before!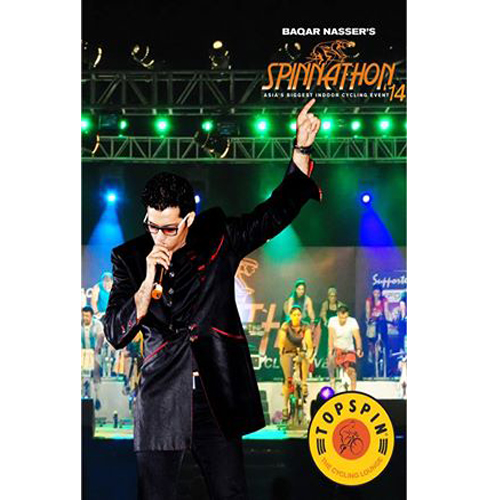 Celebrity Bytes for Spinnathon
Isha Kopikar – The Spinnathon vibe, the boost, the environment, the ambience is something else altogether.
Roza Katlano- It was amazing.. I mean I love bicycle. I used to bicycle a lot all my life. It gives a good feeling.
Saif Ali Khan- Topspin is generally an incredible thing to do.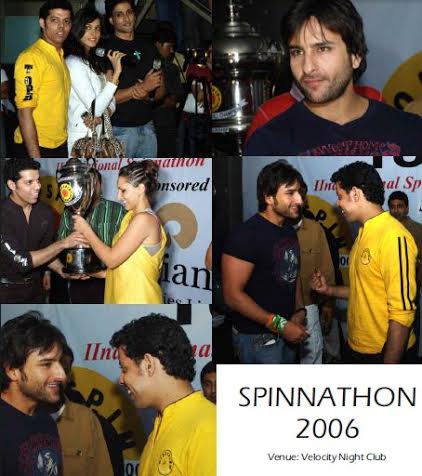 Ritesh Deshmukh- The 'Spin Master' as he calls himself and as we call him, I think he is someone who helped me improve my Stamina, make me even fitter than I am and I think Spinning is a great thing if you do it regularly.
Suniel Shetty- I play cricket or football or any other sport for fun but Topspin is for fitness. I am at an age where I need to take care of my body. I don't want to get injured. This is an absolute zero impact training program where you can be assured that injury is something that will stay away from you by miles.
Neil Nitin Mukesh- It is the most spectacular event of India. This is one thing that I have been associated over a few years. And I can proudly say that topspin and Spinnathon is definitely one of the most unique concepts brought by Baqar Nasser to India. It just doesn't promote but provides you smile on your face. And I have always that smile is a curve line that puts everything straight.I wish I could participate with the hardworking contestants but I cant compete with them.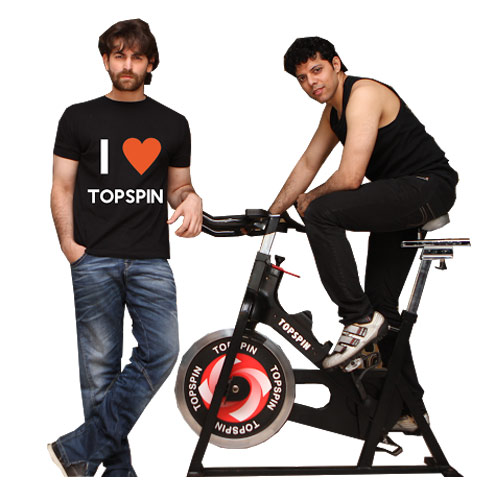 The winner of the event will win a free trip to Switzerland for 3 nights and 4 days by BREITLING Watches.