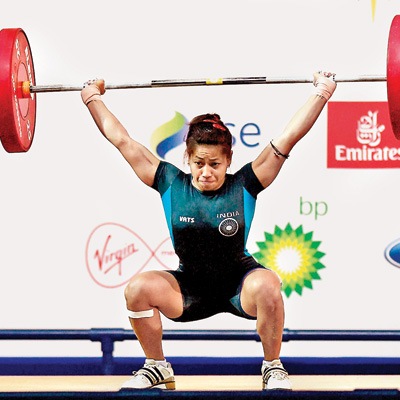 Guided by one of the legends of women's weightlifting, Kunjarani Devi, Indian women lifters maintained their domination of the 48 kg category as Sanjita Khumukcham and Mirabai Saikhom, both from Manipur, won the gold and silver to give India a bright start on the medal's tally on the first day itself.
There was more to come for Delhi as later in evening, the men's 56kg lifting competition was expected to provide another brace of medals through Sukhen Dey and Ganesh Mali, who are seeded among the top three at the start, with Malaysia's Mohd. Faizal Baharom expected to give them a fight for the colour of the medals.
Sanjita, 20, and Mirabai, 19, give rise to the hope that women's weightlifting could once again credible after a series of doping infringements by Indians, which even led to their suspension a few years ago.
Most of Manipuri lifters have 'Chanu' following their names. In Manipur, it means a girl and it is a mark of respect for them.
Kunjarani, who is here win the team, gushed, saying, "We have always done well in the 48kg category and I am glad Sanjita and Mira did well to do that. In fact as everyone saw, the competition for gold was between them."
Sanjita took an early lead with three clean lifts in snatch as she moved from 72 to 75 and finally 77kg, while Mirabai failed once at 75 before successfully hoisting the weight.
Armed with a two kg advantage over Mirabai, Sanjita suffered a hiccup as wobbled with her first attempt at 92kg. But she managed with her second and went for 96kg in her third attempt. She succeeded in it and in a manner of speaking, set the bar for her teammate. Her total was now 173.
World Junior Championship bronze medallist in 2013, Mirabai, may well have upstaged her teammate with the final lift of 98kg in clean and jerk. But her lift was not cleared by the jury, which felt she did not hold bar for long enough after the initial wobble as she hoisted it above her head. That meant, her second clean lift of 95kg counted and her total, following 75 in snatch gave her a total of 170kg.
Kunjarani herself won the 48kg gold in 2002 and 2006, but in 2010, despite two lifters in category India won only the silver and bronze through Ngangbam Soniya Chanu (silver) and Sandhya Rani Devi (bronze).
"I am hoping to see at least a medal in each category," said Kunjarani. "As for Manipuri women doing well in the sport, we have had a tradition, so a lot of girls take to the sport."
Kunjarani, a multiple world champion, who has won more than 50-60 gold in international competitions during her decade and a half long career, was being modest, but there is no denying that Indian success in women's weightlifting and women's boxing is indeed a result of Kunjarani and MC Marykom's efforts over the last few years.
Sanjita lifted 179kg (79+100) while Mirabai had lifts of 161kg (72+89) at the Senior National Weightlifting Championships in March-April. Mirabai won gold in 2013 Commonwealth Championships with a total lift of 166kg (73+93).