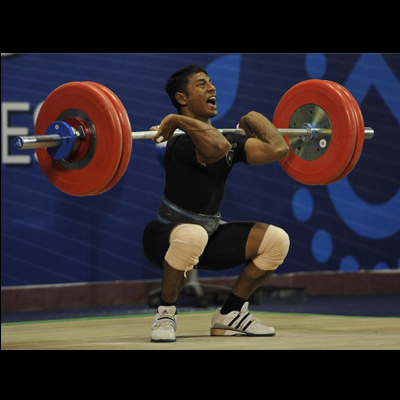 Sukhen Dey won a Gold medal for India in Weightlifting in the Men's 56 kg category on Day1 of XX Commonwealth Games. But even after winning the coveted gold medal which he narrowly lost in the Delhi edition in 2010, Sukhen is not a happy man. He is still leaking his wounds from all the insults and snub he received from his state government in the past four years.
Sukhen belongs to a very poor family hailing from rural Bengal. He says that even after winning silver medal in the last game his achievement was not recognised. While other atheletes got some prize money and awards from state government he was completely ignored. Speaking to media outlets a visibly hurt Sukhen alleged that he was overlooked as he comes from a poor family.He says that the state government could have atleast given him a simple shawl to recognise his achievement.
Sukhen currently works for Services. His office promoted him to the post of junior commander after his success in the last games. After bagging a gold in Glasgow, in all probability he will get another promotion. But what the mild mannered guy from Howrah, West Bengal who choked in the victory stand still craves for is recognition from his home state. He says that sometime back he called up Madan Mitra, who is the Sports Minister of West Bengal. Suken alleges that Mitra even refused to recognise him and behaved rudely with him!!
Sukhen in his media interactions said that athletes from other states are showered with awards and cash prizes after they do well at international competitions. But Bengal government seems to be aloof to such concerns. A frustrated Sukhen even went on to say that. "I feel ashamed to identify myself as an athlete from Bengal". Sukhen however is already looking to gear up for his next challenge in Asian Games where he confesses that the challenge will be much daunting.
West Bengal government has organised high profile public felicitation ceremonies in the recent past for Kolkata Knight Riders after they won the IPL. Award ceremonies have also been organised to felicitate sportsman who are in the public eye. But sadly talents like Sukhen has escaped the radar of Mamata Banerjee's government. Now that Sukhen has won a gold medal, will the state government get over their apathy and give due recognition to the champion? One can only hope for good sense to prevail.