Two years since he last played for national team, Praveen Kumar says he is working towards becoming all-rounder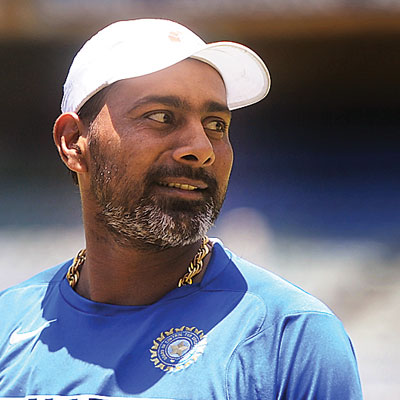 The grey beard and the nascent pot belly is quite misleading as Praveen Kumar is only 27 years old. It's been two years since he vanished from scheme of things as far as playing for India is concerned. But the change in appearance is dramatic.
With a lineage that boasts of wrestlers, Praveen appears out of sorts but in his mind he nurses the kind of confidence that would make grapplers proud and the attitude that helped him make the journey from dusty play grounds near Meerut to the razzmatazz of Indian cricket.
"Coming back to the Indian team is not difficult," he said nonchalantly. Thankfully, that aspect of his character is intact.
Coming back from a shoulder injury that kept him away from action for most part of the domestic season that concluded on Monday with his team finishing runners-up in the Syed Mushtaq Ali Trophy T20, Praveen is confident of working his way back to the Indian team.
Praveen was meeting and greeting familiar faces at the Wankhede Stadium. After the match, he changed from Uttar Pradesh colours and put on his team India practice jersey that he must have got two years ago. It still had the then sponsor Sahara logo on it.
Praveen, who has been part of the IPL in each of the first six editions – first three for Royal Challengers Bangalore and the next three for Kings XI Punjab – is now focussing on working on his fitness and be ready for the next season and be in contention for an Indian berth.
"Everything is going fine now and I just hope that I will stay as fit as possible," Praveen said. "I was not aware of the shoulder pain earlier and I was suddenly out of action. Now I am fit, getting into rhythm with the T20 matches."
It was largely for his injury that the franchises did not show interest in Kumar for this IPL. It may also have got to do with him playing his last international match in March 2012 and has done nothing remarkably to keep the selectors interested.
"It is difficult not being part of the IPL but will get back there soon. But what is important is that get fully fit first. I am confident of returning to IPL," said Praveen, who has been a prominent figure in each of the previous teams that he has played for.
"My IPL experience has been good. Bowling to such big players there gives you a different level of confidence. I learned a lot in IPL. Everyday there was something new to learn," he said.
UP coach and former India medium-pacer BK Venkatesh Prasad lamented about the absence of infrastructure for cricketers in the state. "The only thing that is lacking with UP team is fitness. You need to have infrastructure like gym, practice facilities," Prasad had said.
Praveen did agree with Prasad but did not consider it as a serious problem. "Each state has its own shortcomings. The players have it upon themselves to work on their fitness. Nobody will take you holding your hands. We have to take it upon ourselves and work on fitness and keep playing. As far as I am concerned, I have 4-5 months on hand. I will do training and concentrate on my fitness, doing gym sessions."
The UP cricketer showed signs of becoming an all-rounder but has done little justice to his batting skills. It was evident in the T20 final when UP needed 11 runs off the final over. Praveen swung and missed two of them while playing the other one back to bowler Rishi Arothe. Kumar said that he would not ignore his batting.
Known more for his useful swingers, Praveen said he is working hard to be a meaningful all-rounder. "I am giving importance to batting also," he said.
Kumar in IPL RCB (2008-10) KXIP (2011-13)
Batting:
Matches 38 44
Innings 24 21
Runs 181 109
Average 10.65 9.08
Bowling:
Wickets 34 31
Average 33.53 37.16
Economy Rate 8.18 6.97