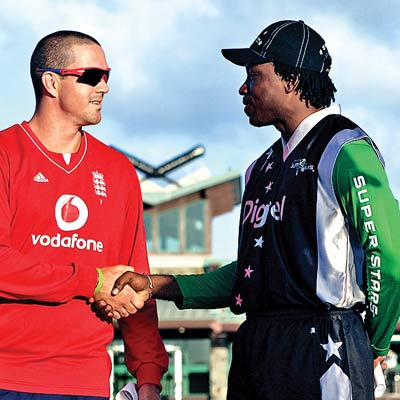 Sacked England batsman Kevin Pietersen has found another supporter in Chris Gayle.
The West Indies swashbuckling opener has slammed the England and Wales Cricket Board (ECB) for they way they sacked Pietersen from the team after their Ashes debacle, calling it 'disrespectful'.
"I'm disappointed in the manner he bowed out of international cricket. It was disrespectful. For such a big player to go out like that, who has made an impact around the world, it was really sad to see. You want to give a top player the chance to retire and walk away from the game regardless of what is happening," Gayle was quoted as saying in a British newpaper.
He also urged the ECB to reconsider their decision.
"I hope the ECB will pick up the phone and give KP a call, and he'll be here on Sunday playing in this game," he added. West Indies take on England in the first T20 at Bridgetown on Sunday.
The Jamaican added that he make up for the absence of his buddy by putting in an exciting show himself.
"I will miss him personally, he's an easy wicket for me so I'll definitely miss him. I'm sure the fans are going to miss him too but I'll try and put on a display to entertain the fans and see what happens," he said.
The 34-year-old revealed that he had exchanged text messages with Pietersen after his unceremonious exit.
"I don't know what happened behind closed doors but for such a big player to actually go out like that it's really sad," he said.
Gayle himself had quite a few run-ins with the West Indies Cricket Board and had to sit out for almost a year due to a stand-off with the board.
"I sat out for a year and then things worked out and we're all getting along well," Gayle said.
Perhaps, the ECB and Pietersen can take a leaf out of that book.
sports@dnaindia.net
QUOTE
I'm disappointed in the manner he bowed out of international cricket. It was disrespectful
--Chris Gayle