New manager spells out squad's weaknesses to Abramovich.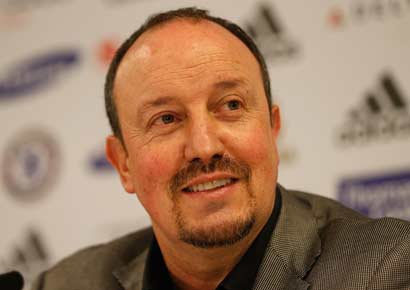 Rafael Benitez has told Roman Abramovich that the Chelsea players he inherited from Roberto Di Matteo are neither fit enough nor strong enough. Chelsea have earmarked Metalist Kharkiv's Brazilian attacker Taison as a January signing while Benitez has been working on the players' fitness, sending Fernando Torres for extra sessions in the gym.
Benitez attended a board meeting on Thursday with Abramovich and Michael Emenalo, the technical director, in which the interim first-team manager outlined his initial impressions of the squad after two stalemates and six training sessions. "You can see the team needs to improve a bit physically,'' Benitez said. "We had yesterday a board meeting and I explained what I'd seen.''
He believes he can win over the hostile fans. "When I was at Extremadura, I replaced a manager who was very successful and at the end they loved me. I went to Tenerife and had a very good relationship with the fans. Valencia was the same. Liverpool was the same. So hopefully with success I can do the same here."
The Spaniard, who today travels to West Ham to face an old rival in Sam Allardyce, argued that Chelsea were moving in the right direction. "The players have a bit more confidence now than before because they were conceding goals every game and losing. The players can see the team is more solid, and that's the first step.'' If he has tightened the defence, Benitez needs to get the attack rolling.
The Premier League hopes to celebrate its 21,000th goal this weekend, needing 27 to hit the mark, but Benitez and Torres have to prove they can find the key to the door to goal. Benitez teams have not scored in the league for six hours (two games with Chelsea this week, and his final two games with Liverpool in 2010).
Torres has not scored in 275 minutes under Benitez in the Premier League, not since March 28, 2010 against Sunderland, the first of his two goals that day highlighting the need to get the ball to him quickly. Liverpool's keeper, Pepe Reina, found Torres on the left with a long throw, and the striker turned Michael Turner before beating Craig Gordon with a superb strike into the top corner.
Torres needs constant encouragement by his manager. "I was always talking to him,'' Benitez said of their time at Anfield. "I like doing that with players, asking them questions, about players, games, families. It can be a two-minute conversation with someone walking to the pitch, or you can have breakfast with them.''
Benitez dismissed the idea of former Olympic sprinter Darren Campbell working with Torres, as he has in the past. "It's different just running and running with the ball on the pitch."
During Thursday's meeting, Benitez, Abramovich and Emenalo discussed the possibility of recalling Romelu Lukaku from West Bromwich Albion. "We know he's doing well,'' Benitez said. "But maybe it's better for his development to stay there, playing." Until January and the possible arrival of Taison or Atletico Madrid's prolific Falcao, Torres faces 10 games. He cannot be rested. "Not at the moment because Daniel Sturridge is injured,'' Benitez said. "Victor Moses is the only option we'd have, but he's a different kind of player.''
Benitez, who was considering omitting Oscar from today's game, said he did not see Eden Hazard up front, a role the Belgian filled unsuccessfully against Juventus. "He's not a striker. He's a No?10 or a winger. He was one of the players I wanted at Liverpool at 19. He was too expensive.''
Benitez also considered recruiting Andy Carroll, who eventually joined Liverpool for pounds 35?million and is now on loan at West Ham.
The Spaniard touched on a range of other matters yesterday. He praised Marko Marin, saying: "You can see his quality.'' Of David Beckham possibly returning to England, he said: "I'm not sure whether he can cope now with the pace of the league." He explained why he made the crossing hands "game over" gesture after Liverpool's second goal in a 4-0 win over Allardyce's Blackburn in 2009, a gesture of "absolute contempt" according to Sir Alex Ferguson. "How could I have said the game was over after 20 minutes?'' said Benitez. "Crazy.''
John Terry has told the club's medical staff he feels ready to play but Benitez remains cautious, citing concerns over the knee injury.
Benitez's life is all tinker, tailor at the moment. "I have some problems with the official suit. The Italian style is different. It's really nice, but it's a style for young people, not old people. Now, because of the economic crisis, no one has many suits in stock. They have to make the right one.''
What would suit Chelsea today is a goal. Benitez is known for rarely celebrating goals. "Sometimes when you score it's the time to talk to players. Some managers like to jump around. The fans sometimes enjoy this. I'm happy inside."