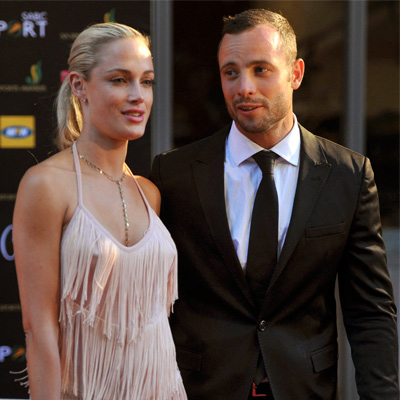 Paralympic champion Oscar Pistorius is reportedly seen kissing and flirting with his model girlfriend Reeva Steenkamp just days before he 'accidentally' shot her dead, in a security footage broadcast released just a day before his murder trial on Monday.
Pistorius, who has been charged with the planned killing of Steenkamp, was seen in CCTV footages behaving like any loving couple with Steenkamp as they picked out groceries in a Pretoria store ten days before her Valentine's Day death.
According to News24, the couple was browsing the food section, chatting and laughing, and looked relaxed and at ease with each other, adding that at one point, the Blade Runner leaned over and kissed Steenkamp.
Pistorius had insisted that he was in love with Steenkamp and that he shot her through a locked toilet door at his home believing she was an intruder, although the State is expected to show the couple had relationship problems, and call as witnesses neighbours who heard fighting and screaming the night of the shooting.
Reports this week claimed that Pistorius is dating a teenaged paramedic student and newly released footage also showed Pistorius firing his gun at a shooting range months before he shot Steenkamp, the report added.