Apart from being gifted chess players, Viswanathan Anand and Magnus Carlsen have something else in common. The game may have been invented in India some 1,500 years ago, but the country got its first Grandmaster only in 1988. Similarly Norway had a strong chess culture, but did not have players who could pose a challenge to world champions.
Prior to Carlsen, Simen Agdestein was Norway's most famous chess player. In fact the 46-year-old, who won seven national championships and even made eight appearances for the Norway football team, competed with Anand during the latter's world junior title run in 1987.
Agdestein did not make it all that big in chess. For the record, his brother Espen happens to be
Carlsen's manager.
In a way, Bobby Fischer, Anand and Carlsen did what their countrymen couldn't. When Fischer won the world title in 1972, he had brought an end to the Soviet hegemony in chess. Almost 30 years later, Anand did the same by putting Asia on the chess map. And if Carlsen succeeds in dethroning Anand, the Norwegian will become western Europe's first world chess champion in 75 years. Dutchman Machgielis "Max" Euwe was the world champion from 1935 to 1937.
In that sense Euwe, Fischer and Anand took on Russia. But it wouldn't be wrong to say that Carlsen is up against India. Nay, an Indian, who has been the undisputed world champion since 2007.
Like Anand and Fischer, Carlsen is not quite a superstar in Norway. Each of these gentleman has, of course, greatly influenced the younger generation. Football is the top game in Norway, the equivalent of cricket in India. And for geographic reasons, skiing is a more popular sport in the Scandinavian country.
This year, Carlsen was awarded the title of the sportsman of the year by Norway's leading newspapers. "Everybody recognises him (in Norway). He is not mobbed because the people are normally very polite. So they don't run up to him. He can walk around (in peace). But definitely, everybody knows who he is," Carlsen's manager says.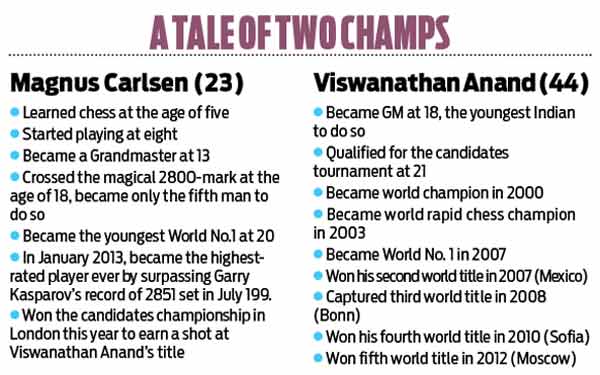 That is more like Anand commenting on his public appearances since he shot to fame in the 1990s. Norway is also doing an India: they are trying to capitalise on Carlsen's rise by organising a series of world chess events. Norway Chess 2013, held earlier this year, was one of the best tournaments of all time. The country will also host the Chess World Cup and the Chess Olympiad soon.
When Carlsen came to Chennai in August, a couple of mediapersons accompanied him. They were from Verdens Gang (VG), an internet firm which sponsors Carlsen. Their tabloid reported on his visit to Chennai. They also covered his showing in the simultaneous display at a school where he played 20 games, lost four and drew six.
The report mentioned that some of the participants who were lined up against the jet-lagged Carlsen were rated 2,300 and above. It also pointed out that Garry Kasparov insisted that "none of his opponents be rated above 2,000 if he is to meet them in simultaneous play".
Interestingly, the paper picked out Ram Aravind of Trichy, the youngest player who beat the World No.1 Carlsen, and six-year old Savitha Sri who extended the Norwegian to 40 moves before losing.
Ever since Anand became a popular tournament player in the 1990s, India started producing many age-group world champions. The Carlsen effect in Norway is almost similar, though it will take them a few years to produce another world-class player. Grandmaster Ludvig Hammer is turning heads and is reportedly part of Carlsen's team of seconds. But it will take him a while to join the big league.
The fundamental similarities apart, Anand and Carlsen have different personalities. While Anand is choosy about his sponsors, the Norwegian does fashion shoots with Liv Tyler, the American actress and model. He enjoys football-style sponsorship deals and was named one of Time Magazine's 100 most influential people earlier this year.
Unlike Anand, who became World No. 1 at 37, Carlsen reached the top when he was just 20. And he scaled the Mount Everest of chess by going past Garry Kasparov's ELO rating of 2851. Carlsen wouldn't want to follow Anand on one front. A very good tournament player, it took the Indian almost a decade to win the first of his five world titles. Carlsen looks hungry. He wants that title soon.