After suffering heartbreaking defeats at the hands of Belgium and England, Sardar Singh & Co. will be keen on getting their campaign back on track against lower-ranked Spain today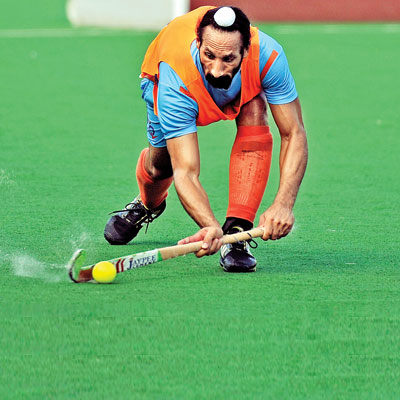 India have not win a medal at the Olympic Games or, for that matter, the FIH World Cup for longer than anyone cares to remember. That's so far back that you would need history books to tell you that 1980 was the year John Lennon was shot dead, Moscow hosted an Olympic party which a good part of the world did not attend and Tim Berners-Lee began work on a project that 10 years later would lead to the World Wide Web. It was also the year India last won a medal in hockey at the boycott-ridden Moscow Olympics.
So, the heavens will not fall if India do not make the semifinals of the ongoing Word Cup — in any case, it hasn't since 1975. No one would care if they finish with the wooden spoon either — they've done so once (in 1986) and finished either ninth, 10th or 11th on four other occasions.
Yet, when you see that this team — as also a few other Indian teams in the past — has the ability to play for 65-67 minutes before allowing the opponent to wreak havoc, you wonder what they need to last just another three-odd minutes to obtain a favourable result.
Some say they need better nerves; others say they need to show heart. But maybe, the best remedy is to have no memories of the past. Erase them as you would bad files from the hard disk of a computer. Sure, there are lots of such files, but it's better trash them all and begin afresh.
Champions visualise the past and ride on those memories to re-capture the winning feel, but these boys have little by way of happy memories, at least at major events.
If wishes were horses, beggars would ride goes the old saying. But one cannot help going back to the 'what if' feeling. If only India had managed to hold on for a cumulative 90-odd seconds in the closing stages of the last two games (against Belgium and England), they would have had two points. What's more, they would have been tied for third place with England in Group B. But as things stand, India are fifth among six teams. And like Malaysia, they have no points to show.
Australia and Belgium are on top with six points each. Australia have scored seven without a reply. And Belgium, who ran up six against Malaysia, have nine against two. England, who beat India 2-1, have four points. Spain, who managed a draw against England, have one.
Coming back to the India-Spain clash, the latter's ranking of 10th to India's eighth may have little meaning. It is mainly because India earned a few extra points by getting to play the World Hockey League finals by virtue of being the host. And in spite of beating India in the penalties for fifth place in World Hockey League semifinals, Spain missed out on a berth.
As for Thursday's match, there's been some talk about Spain's best players being 30 and above, but those are the ones like Eduard Tubau, Ramon Allegre, skipper Santi Frexi and goalkepeer Quico Cortes who marshall the game. The youngsters do the running, though even the older ones are supremely fit. The Spaniards were at the receiving end against Australia, losing 0-3, but they did give England a run for their money in the first match, holding them 1-1. In both games, it was their defence that stood out.
Sardar Singh and his men have shown they can play for 65-67 minutes. They must now begin to believe in themselves. Terry Walsh has been working on it, he says.
Young players Mandeep Singh and Manpreet Singh, as also Lalit Upadhyay and SK Uthappa, are the new face of Indian hockey. The likes of Sardar, Gurbaj Singh and VR Raghunath and SV Sunil have ample experience. So, the team can go a long way, but they must first get over their 'last-minute bogeys'.
Playing today: India vs Spain (Live on Ten Sports, 9:00 pm); Belgium vs Australia (Live on Ten Action, 7.30 pm)