We're done with the qualifiers and warm-ups. It's time for the real deal. It's time for India vs Pakistan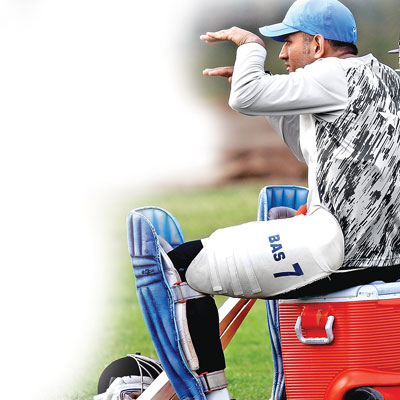 You've been waiting for this. It is time to don that jersey and wave the Tricolor. It's time for the biggest clash of the ICC World Twenty20. It's time for India vs Pakistan.
Call it a coincidence or an excellent marketing idea, but the ICC got its scheduling spot-on by dishing out such a mouth-watering contest first up. The main course can follow.
MS Dhoni's boys are all charged up to take on their arch-rivals, led by Mohammad Hafeez. The players may call it "just another match", but you should know they are kidding. A loss to Zimbabwe or Ireland will be frowned upon but forgotten. A defeat at the hands of Pakistan, will, however, never be pardoned. Why, even an unintentional error under pressure could draw criticism.
So far, India and Pakistan have met on five occasions in this format. The Men in Blue lead 4-1. In fact, just like their enviable record in the 50-over World Cup, India have lost to Pakistan in the biennial world event. That's some record.
Of late, Dhoni's boys haven't had a great time on the field. A dismal — going by the results, that is — tour of South Africa was followed by an even more forgettable sojourn of New Zealand. The boys' failure to qualify for the final of the Asia Cup was another shocker. In fact, it was a breathtaking cameo from Shahid Afridi that sent them crashing out of the continental championship.
India would like to forget all that. They probably have. After going down narrowly to Sri Lanka in the first warm-up tie in which Dhoni chose not to bat, India tamed England on Wednesday to gain some much-needed confidence ahead of the main event.
Dhoni and his boys are capable of performing miracles and you know that already. From the inaugural World T20 in 2007 to the tri-series in Australia next year to the ICC Champions Trophy last season, they have pulled off a coup on many occasions.
With an enviable batting line-up and thoroughbreds to boot, India can go on to win this tournament. But first, the youngsters will have to hold their nerve in this nerve-wracking encounter against Pakistan. How they handle the wily Saeed Ajmal and the rest will go a long way in determining the outcome of the match.
India have some issues in the bowling department too. They have some top-class spinners like R Ashwin, Ravindra Jadeja and Amit Mishra, but neither has excelled in a tournament like this. Dhoni will have to be smart in using his bowlers, especially Varun Aaron, who is an asset with his 140-plus speed. But can he get his line and length right?
Pakistan, on the other hand, have a balanced side. However, it is their unpredictable nature that come to mind first. They have mavericks and match-winners in equal measure, but could end up looking like novices on a given day. Get ready for a roller-coaster.