For the first time, digital world will discuss the World Cup through Twitter and instant messaging groups through their mobile handsets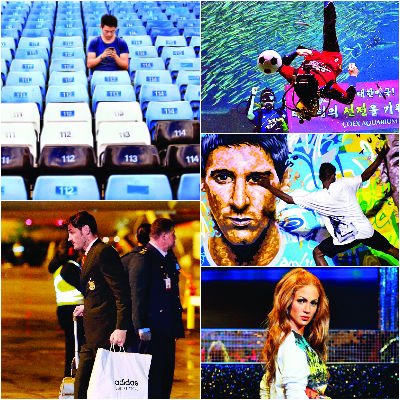 #Brazil2014 may be just 11 characters, but for the next month and a half, this hashtag will create a buzz amongst the digital world.
Getting everything on your fingertips at the click of a button, wasn't something in vogue four years ago during the previous edition of the tournament in South Africa. Taking into account that the FIFA World cup is the most watched competition across the world, beating the coverage of the Olympics, the virtual world is all set to experience something never seen or imagined before.
"Twitter is where users follow their world and the world at large. We are the world's leading mobile first, real-time information network where people follow, share and experience content that is live, public and conversational. It is a global town square which brings people closer to the things that they are interested in,"says Aneesh Madani, head of sports Twitter India.
"People want to be part of conversations adjacent to their area of interest and for a global sports event like the World Cup, Twitter is a great way to connect to fans in real-time and bring them closer."
With applications on smartphones becoming more user friendly. It comes as no surprise to see software developers create applications for the upcoming tournament in Brazil. The official FIFA World Cup application shall give minute by minute updates for the latest happenings.
"This is where digital technology beats older mediums like television and the newspaper. Four years back we didn't have 3G in India. Now we do. There will be fans who might have missed the match. That's exactly why every football fan has a football application installed on his phone, it's common sense. You can watch a match live, see the goal highlights minutes after it's been scored. And here's the best part, you could be anywhere, doing anything. Technology eliminates distance," says Sajal Thomas, a cyber security engineer in Delhi.
Despite being created in 2009, Whatsapp was something not many people knew about during the FIFA World Cup in South Africa the next year. Fast forward four years, and the instant messaging application has become a tool that we can't do without.
"Compared to Facebook, Whatsapp groups feel more close and private as the maximum number of participants is 50. You know the person on the group as compared to a larger group on Facebook. Boys playing football in the same building will support different teams during the tournament. It brings out the enthusiasm. Who doesn't like same casual banter between buddies," says Shravan Mehra, engineering student.
But Nikhil Kale, network engineer from Pune begs to differ. Adminstrator of a 6,000 strong Facebook group called 'Footy Lounge', he believes content is more important than numbers.
"Groups like the Footy Lounge provides a good platform for people who have one love — that is football. For me number does not matter. Quality beats quantity every time. Over the course of time, with increased interaction, one makes friends and forms their own groups. There are so many Arsenal fan groups, Man United fan groups, the people don't know each other. But they will meet every weekend to cheer their team in a pub."
FIFA will be doing through their official handles @FifaWorldCup and @FifaCom
The official hashtags for the 2014 World Cup are #WorldCup and #Brazil2014
Reaching out via twitter
The concept of reaching out to players via Twitter seems to be a favourite amongst the youth. More than 300 of the players from the 32 competing nations are on Twitter, with representatives of all the competing teams having a presence on the platform. Thirty one of the 32 nations competing in this year's World Cup have official accounts on Twitter. Everyone's connected at the click of a button
Setting records already
There have already been more World Cup-related Tweets this year than during the entire 2010 tournament. For instance, there were 7.3 million World Cup-related Tweets between June 11 to July 11, 2010 when the World Cup was on, but from Jan 1 to June 3, 2014, we have already seen 10.3 million World Cup-related Tweets.