A lot of credit for the team's success this season must go to the engineers who put in countless hours at the factory and high performance centre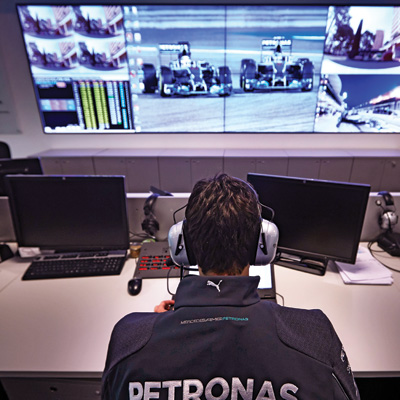 Have a look at these numbers: of the 11 races that have taken place this season, Mercedes have won a whopping nine, with Lewis Hamilton edging teammate and championship leader Nico Rosberg 5-4.
No wonder, then, that Mercedes are a massive 174 points ahead of second-placed Red Bull in the constructors' world championship. The race for the drivers' championship, too, has been an all-Mercedes affair, with German Rosberg accumulating 202 points, just 11 more than Englishman Hamillton.
So what is it that's fuelling this astonishing surge from Team Mercedes. A day after Hamilton won the British Grand Prix in Silverstone on July 6, dna visited the home of the Mercedes AMG Petronas Formula One team in Brackley as well as the Mercedes AMG High Performance Powertrains in Brixworth.
It is here that engineers spend countless hours designing and manufacturing the cars driven by Rosberg and Hamilton. It is here that the men behind the scene have created a unique engine that has propelled the team to the very top.
Brackley, which is situated 70 miles northwest of London, has been the home of the modern 'Silver Arrows' since the return of the Mercedes Benz team to Formula One in 2010. Prior to that, the facility was home to Brawn GP, which won the 2009 championship. After Brawn's takeover, the Brackley factory subsequently became the home of the Mercedes GP Petronas F1 team, known as Mercedes AMG Petronas. Petronas, the Malaysian oil major, fuels the team. It is also the main sponsor.
So impressive are the facilities at Brackley that they could put any rival facility to shame. Spread over an area of 66,000 square metres, the factory boasts ultra-modern facilities for the design and development of next-generation F1 cars. The facility houses cutting-edge facilities, including the wind tunnel, state of the art dynos and the team's driver in loop simulator as well as the production resources required to maintain season-long development of the race car.
In five shifts, more than 500 employees work 24 hours a day, seven days a week on design, development and manufacturing activities. More than 2,50,000 working hours go into the design of an F1 car. And a further 2,00,000 hours are spent on production. No wonder, then, that the factory is shut for just two weeks in the summer and on Christmas day.
About 30 miles northeast of Brackley is Brixworth, which houses the Mercedes AMG High Performance Powertrains. Here, a team of over 400 people are responsible for the design, manufacture and testing of F1 power units for Mercedes AMG Petronas, McLaren Mercedes, Sahara Force India and Williams.