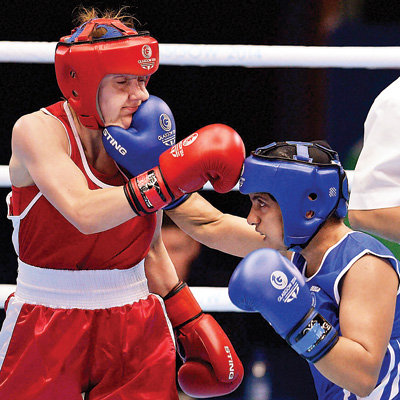 Pinki Jangra may well have felt more than a little disappointed as she was forced to settle for a bronze medal in the women's flyweight (48kg), losing to Michaela Walsh of Northern Ireland on Friday morning.
Pinki, who had beaten Olympic bronze medallist MC Mary Kom to make the team for Glasgow, was the first of five boxers – L Sarita Devi, Devendro Singh, Mandeep Jangra and Vijender Singh being the others – scheduled to fight on Friday night. It was India's first medal from boxing.
"I am very disappointed as I had come to win and I feel I can fight much better. I am not at all happy with a bronze," she said.
The decision was by no means unanimous as one of the three judges gave the boxers identical points of 38 each out of 40, but another judge awarded Walsh a 40-36 verdict and a third gave the Irish girl 39 against Pinki's 38.
The taller Walsh made use of her longer reach and scored well in the early stages before Pinki found her bearings late in the first round. But by then, the Irish boxer had scored well in the round. In the second and third rounds, Pinki was very much in the fight, giving as much as she got.
In the fourth round, Walsh just managed to keep her nose ahead and sailed into the final, where she will meet Nicola Adams, who beat Mary Kom en route to the 2012 Olympics gold.