Swedish golfer takes early lead with four-under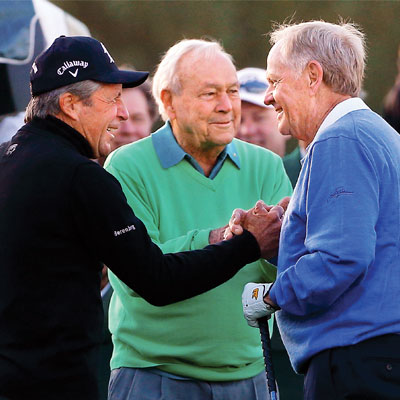 It's been only a few hours since the 78th edition of the Masters teed off with the game's three greatest Ambassadors, Arnold Palmer, Gary Player and Jack Nicklaus hitting the ceremonial tee shots to signal the start of the year's first Major. But it is clear that predicting the winner is going to no less than hazardous than it has been in the previous years.
In fact, it may even be tougher with 24 first-timers, one of whom Jonas Blixt, fourth at the previous Major – the 2013 PGA Championships – had knocked in five birdies on the front nine. Swede Blixt, who has two PGA Tour twins and turns 30 in two weeks time also had two bogeys. He was at three-under through 12 holes, before another birdie on 13th hauled to him to an impressive four-under and he was still there with four to play.
In a field awash with youthful talent, the ageless, Miguel Jimenez, all of 50 years, and getting ready for the Champions Tour, was three-under through seven holes. Another veteran Fred Couples, the 1992 Masters champion, who was inducted into the Hall of Fame last year, showed his love for the tournament, as he was two-under through eight.
Defending champion Adam Scott opened the his title defence with a birdie on the first and stayed at one-under through four.
Another first-timer hitting the right notes in the first few hours was Kevin Stadler, who won his first PGA Tour title in February, cashing in on a five-foot putt missed by 2012 Masters winner, Bubba Watson.
Stadler was two-under 14 with four birdies and two bogeys.
Stadler can always look for tips on how to handle the Augusta National Golf Club, for the field also includes his father, Craig Stadler, the 1982 Masters winner. The Stadlers are the first father-son duo to play the Masters in the same year. While the son, Kevin, was two-under through 14, the father was eight-over 11 holes.
Craig Stadler has one Major win and 12 other top-10s and a total of 30 pro titles, including 13 on PGA Tour and nine on Champions. The younger Stadler has won 10 titles on six different Tours.
Major golf has never been as open as it has been in last six years, or 24 Majors, if you like. Why six years, one may ask? Simply, because that has been the period during which Tiger Woods has won just one Major – his last one — the US Open in 2008. His Major-less run, which has been a result of personal problems and a host of injuries, has led to 21 different winners in the last 24 Majors. That number of 21 includes Woods and the only three to have won more than one Major are Padraig Harrington, who won the first two Majors after Tiger's last, Phil Mickelson (2010 Masters and 2013 British Open) and Rory McIlroy (2011 US Open and 2012 PGA).
Earlier this morning, the Big Three, Arnold Palmer, Jack Nicklaus and Gary Player, who Grand total of 34 Majors includes 13 Green Jackets, gave the tournament a ceremonial send-off with a tee shot each.