All that hard work on sidelines has finally paid off for Amit Mishra.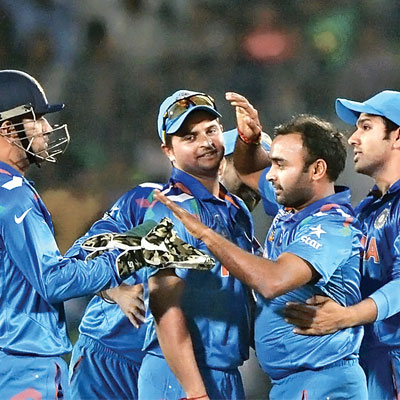 Did you know that Amit Mishra first donned the India Blue in 2003? But even after all these years, the Haryana leg-spinner has just 13 Tests, 23 ODIs and a couple of Tweny20 Internationals to show. Truth is he has often travelled with the team as a passenger. But against Pakistan on Friday, he made it count. And how!
Patience is Mishra's second name and he has never quite let those snubs affect his psyche. All that hard work on the sidelines has finally paid off. At the magnificent Sher-e-Bangla Stadium here on Friday, Mishra came good. His impressive figures of 4-1-22-2 powered India to a facile win against the arch-rivals. In fact, MS Dhoni & Co. couldn't have gotten their World Twenty20 campaign to a better start.
Mishra, who was playing his first T20 International in nearly four years, coaxed the batsmen into playing extravagant shots. That's how he claimed the wickets of Ahmed Shehzad and Shoaib Malik. If the former was done in by a turning delivery, Malik ended up offering a lollipop to Suresh Raina at long-off.
Mishra was obviously delighted after playing his role to perfection in India's seven-wicket win, "It is always special if you perform and win against Pakistan. I did a lot of hard work and I am really happy because we won this game and I did well with the ball. In the Asia Cup match against Pakistan too I did well, but we had lost that game," Mishra told reporters.
The soft-spoken, ever-smiling bowler thanked Dhoni for encouraging him. "Dhoni said I should stick to what was my strength. My strength is to beat batsmen with flight and spin. It worked for me today. If you think about stopping runs, you can't stop runs. You have to think of taking wickets," he said. "I have worked a lot on my fitness and increased my variations. That is helping me. I've tried to understand my own game better."
Warming the bench for months together can be frustrating. And the best way to get rid of negativity is by being joyous and focused. "I always think positive. I don't like being negative. I always try to improve myself. I keep talking to our coaches and captain. They also help me improving myself. I don't think a lot if I am sitting out," he added.
A simple and humble soul that he is, Mishra did not let anger or desperation creep in. "As I said, I always think positive, I am really happy I am performing. The whole team is supporting me."
Leg-spinners are a rarity, but they are canny customers. On some days, they can hurt you by going for runs. On other days, they could bamboozle the opposition with their wizardry. Mishra keeps it simple by looking for wickets. "In the shorter format, you think of stopping runs, but you cannot always do it. You must always think about taking wickets. The idea is to keep the pressure on. This is working for me," he added.
Mishra, who is the second highest wicket-taker in IPL history, credited the league for his success. "I think (playing in the) IPL helps a lot. All kinds of top-class players come to play there. You gain experience there. You talk to people, bowl, perform in front of such big players."