Legend, leader, humble, hungry — Kobe Bryant is to basketball what Sachin Tendulkar is to cricket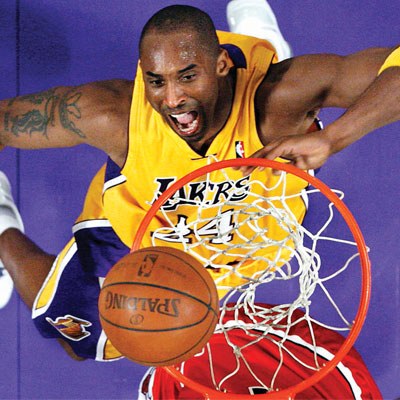 The similarities are striking. Both Kobe Bryant and Sachin Tendulkar are legends in their own right. They are ideal role models and among the richest sportspersons in the world. They set high standards for themselves and expect the same from their teammates. Both have had very long and successful careers: Tendulkar retired two days into his 25th year in international cricket; Bryant has been a Laker for nearly two decades. Both have had their share of injuries. Truth be told, one can go on and on. Simply put, Bryant is to basketball what Tendulkar is to cricket.
However, there are some dissimilarities too. Apart from the height factor (Tendulkar is just five-and-a-half feet tall; Bryant is 6'6), the Indian is no longer an active cricketer. On the other hand, the American is looking for his sixth NBA Championship.
But like Tendulkar, Bryant is way too humble. Having been named in the starting line-up of the Western All Stars for the All Star Weekend in New Orleans in February, Bryant had to withdraw due to a knee injury. He was scheduled to address the media at 6:30 pm, just hours before the All Star game, on February 16. He walked in to the media conference hall a good 15 minutes beforehand but had to wait. Why? Because the organisers told him that the press was asked to assemble at 6:30 pm.
No, Bryant didn't throw tantrums; He walked away only to return 15 minutes later. He was posed all sorts of questions. How was his knee? What are his retirement plans? What's the secret to his longevity? What's happening with his official KB24 store?
Bryant has had some differences with a few legends like Shaquille O'Neal (they were teammates between 1996 and 2002) and Karl Malone. Those who have followed Bryant's career for many years say that he takes his basketball very seriously. He may be an introvert but, over the past couple of years, he has made a conscious effort to be more friendly. On the other hand, they said O'Neal was more an outgoing person who enjoyed life. Both, however, excelled on the court.
Bryant admitted he is a "difficult person". "For people who don't have the same kind of competitiveness or commitment to winning, then I become an absolute pain in the neck. Because I'm going to drag you into the gym every single day. If you need to be dragged in, that's what I'm going to do. If the players have your level of commitment as you do, it is very, very easy. One can see as part of the group, elevating them. If you don't have that commitment, I'll absolutely be very, very tough to deal with. No question about it."
On the secret of his long career, the 35-year-old two-time Olympic gold medallist said, "I enjoy what I do. I love what I do. That's the secret. When you love your job, you love, you have a passion for it, you just want to continue to do it and do it and find new ways to do it. And when you have that passion and whatever challenge is thrown in front of you, the passion supersedes that. And it just becomes more and more fun every year. And that's really the secret," Bryant said.
Asked how the league has changed since his debut in 1996, Bryant said, "The global impact it's had. And I could see the development, the growth of the game, because it reached me in Italy (where he grew up). Games, all of a sudden, started becoming televised and you started having a product that was accessible to you. You started having videos that were accessible to you. So you start seeing the global growth of the game. And then, to come to the league in 1996 and really watch it explode, the product of the 1992 Olympics, you have Yao Ming coming in, obviously there was Vlade Divac, before him Dirk Nowitzki and all these other great players that came in, Pau (Gasol) and (Manu) Ginobili, just the global impact that David Stern (the former NBA commissioner who stepped down after 30 years at the helm) had with his leadership I think is a lasting legacy."
Bryant, a thorough professional, did not sidestep a question on his retirement plans. The journalist who posed that question also put it very well to invite an answer, unlike the "no comments" or "I will let you know when I decide" that Indian cricketers are known to give.
This was the journalist asked: "Not that I'm suggesting anything, but do you have a retirement plan in say two, three, five years? Do you know if you're going to announce a final season or something like that? And, secondly, with so many injuries we have seen in the league in the past couple years, do you think the new commissioner (Adam Silver) should think about perhaps loosening the grip a little bit and allowing players to rest more?"
After a laugh and without batting an eyelid, Bryant said, "To answer your second question first, yeah, I mean, it has been a slew of injuries here in the last couple years. I don't know. I think we'll have to kind of look and as a whole, as a league, and maybe re-evaluate things that we can do. Whether it's rest periods in between or maybe it's just different forms of recovery, whatever the case may be. You think there's something to that. That needs to be figured out.
"As far as my retirement plans, I don't know. I don't know. My personality is I don't really want the rocking chair before the game. It would drive me crazy. But I'll probably just pop up and just vanish. Ha ha.."
Bryant was concerned about his injury but equally confident he would not succumb to it. Asked if he was concerned about the body starting to get on him, considering his history of injuries, he said, "Of course. Absolutely. That's part of the excitement of the challenge, that level of uncertainty: 'Is this it' sort of thing', 'are my best days behind me sort of thing'. And to have those conversations with yourself and not be intimidated by that and not be succumbing to that is part of the challenge. It's really the biggest challenge is saying, well, maybe this is the end, but then again, maybe it's not. And it is my responsibility to do all that I can to make sure that it's not. So that's really become the biggest challenge."
It was really an insight listening to Bryant for those 20 minutes. His fans must be praying that he sets the court on fire again. They'd also want to to leave on a high.