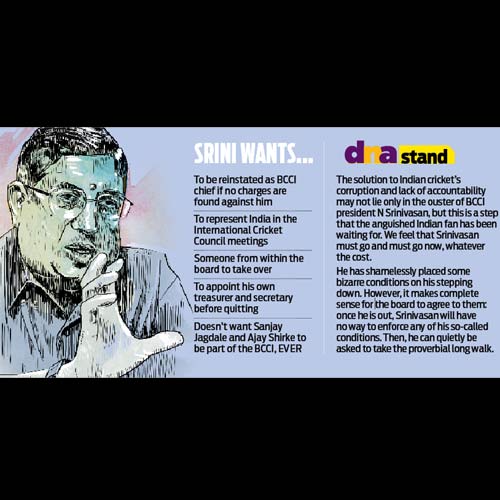 By Sunday afternoon, Indian cricket will most likely be rid of its administrative boss: N Srinivasan, the man whose blatant disregard for public sentiment has disillusioned fans not just about the way cricket is run, but also turned them away from the game itself, is set to become 'former BCCI president'. A formal announcement is expected from Chennai, where an emergency meeting of the BCCI working committee is scheduled for 2.30pm.
The big question, of course, is: who will take over for the awkward four months before fresh elections are held in September?
The suspects, in no particular order, are:
Arun Jaitley: But taking the job at this time could be tricky for him. He wants the job full time, and is understood to be willing to wait his turn (in 2014). All that he will get over the next four months, should he take over as stopgap president, is questions about what he will do to clean up the BCCI.

Shashank Manohar: The two-term BCCI president, a lawyer by profession, is lauded for restoring some of the harm done to cricket's image after the Lalit Modi affair. He is an unusual man — he doesn't carry a cellphone but seems to be in touch with events, nevertheless. From what he has seen of the mess, he is unlikely to be persuaded to take the job, even though the lobby aligned to Sharad Pawar is backing him. Additionally, he isn't a member of any state board, so there is a technical problem in his appointment.
Jagmohan Dalmiya: Is a candidate from the left field. His name was thrown into the box by his home association, Bengal. Dalmiya was unseated as BCCI president with substantial help from Srinivasan, and would dearly like his old job back.
For any of this to happen, of course, Srini Anna must step aside. On Saturday, there was more pressure on him to do so: Rajeev Shukla resigned as IPL commissioner. Shukla's resignation is something that Srinivasan had demanded as a condition for his stepping aside earlier in the week. But Shukla loses little by resigning. He has had his two terms as IPL commissioner, and couldn't have got a third.
dna has learned that the BJP lot in the BCCI — Arun Jaitley and Anurag Thakur — went to work on Srinivasan on Friday. They had convinced him to resign, when the India Cements boss flared up.
He heard that his trusted secretary, Sanjay Jagdale, had "backstabbed" him and quit, along with west zone's Ajay Shirke, the BCCI treasurer. Another round of persuasion followed, and Srinivasan apparently agreed to step down on certain bizarre conditions: that he continue to represent India at the ICC; that Jagdale and Shirke be blacklisted, at least temporarily; and that he be reinstated if the spot-fixing probe panel doesn't find his personal involvement in the scandal.
But what happens to the panel now that Jagdale has resigned? What's left of it are two former Tamil Nadu judges. It is likely that the panel appointed by Srinivasan will have to be reconstituted on Sunday.
One name in the mix is that of Mukul Mudgal, a former Delhi high court judge, who has an interest in sport and knows Arun Jaitley well.
A lot, however, will depend on what kind of sleep Srinivasan gets as this paper goes to bed.
Technically, he must step aside of his own volition.
Mumbai Cricket Association president Ravi Savant, who is to attend Sunday's meeting, has called it a farce. He said, "This meeting is unconstitutional and illegal. First of all, an emergency meeting of the working committee may be convened on three days' notice. The announcement was made on Saturday! Also, the conditions made by Srinivasan are ridiculous. He wants to be reinstated if he comes out clean, he wants to represent India at ICC meetings and he wants to keep Jagdale and Shirke out. The working committee does not have the power to vote him out. You need to convene a general body meeting for the same."
The proceedings of the meeting have to take place in concurrence with the president. No business can take place without the president's consent. And if it does take place, then it's unconstitutional anyway.
In one sense, Srinivasan will decide what to do. We will have to wait till Sunday to see if this don fades brightly.