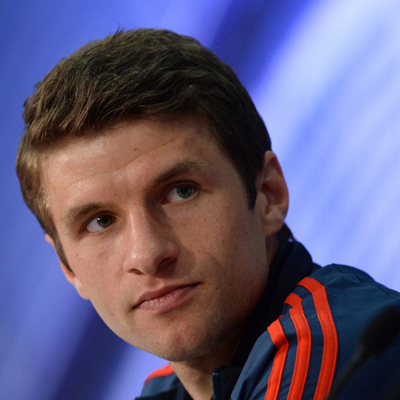 Thomas Mueller said Bayern Munich would dismiss all thoughts of club president Uli Hoeness, on trial for tax evasion, ahead of their Champions League last-16 second leg against Arsenal on Tuesday.
The Bavarians go into the game in Munich with a 2-0 advantage from the first match as they look to become the first team to retain the trophy.
Bayern icon Hoeness, sports director for 30 years after his playing days at the club ended, went on trial on Monday and could face a jail sentence if found guilty of avoiding to pay what the prosecution says are millions of euros in tax from a Swiss bank account.
The case, expected to last four days, has taken the media spotlight in Germany where the outspoken former international striker has been a household name for decades.
"We will try to focus on the game. When the whistle goes for the start then everything else is shut out," midfielder Mueller told reporters on Monday.
"I do not expect it to have any negative affect."
Bayern beat Arsenal last season on the away goals rule after a 3-1 win in London was followed by a nervous 2-0 defeat at home.
Coach Pep Guardiola said another victory this time round would do Hoeness good.
"We can help him the most with a win over Arsenal," said the Spaniard. "In the past nine months I have seen that Hoeness is the most important person at the club."
Guardiola, however, warned that last season's return leg should act as a warning.
"We have a good chance to go through but it is still a dangerous situation. Arsenal have a lot of quality," he said.
"Arsenal are a team that can come back from a two-goal deficit. We cannot allow Arsenal to play their game tomorrow or we will be in trouble."
Guardiola has a full squad to choose from. Mueller and Franck Ribery are back in action and were on target in the 6-1 demolition of VfL Wolfsburg on Saturday.
Bayern are having a sparkling season on all fronts, carving out a 20-point lead in the Bundesliga and firmly on track to retain their German Cup title.