Our neighbours have been playing top-flight cricket for well for a decade but, for some strange reason, they are still considered minnows.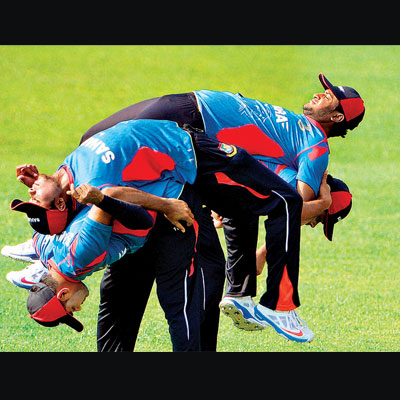 Like in India, cricket is a religion in Bangladesh. Their fans are even crazier. They throng stadiums in huge numbers. However the Tigers, who have been playing top-flight cricket for well over a decade, have not been able to deliver consistently.
Right throughout the ICC World Twenty20, Bangladesh played in front of packed stands. So passionate are the locals that you can literally see hope in their eyes. And the fanatics? Well, they just run around the streets outside the stadium.
Bangladesh have had disappointing run in the tournament, losing all three Super 10s matches. When dna asked captain Mushfiqur Rahim how bad he feels when the fans return home with a heavy heart, he said, "It is disappointing and I feel sorry for them. We have to put some good performances and that is the only thing for them."
Cricket is in every Bangladeshi's blood. People here took the game very seriously even before their team attained Test status in 2000. Football was the top sport till slowly cricket captured people's hearts.
In spite of cricket being the No. 1 sport for some years now, Bangladesh are yet to find their feet at the world stage. They are mere also-rans in ICC tournaments.
Bangladesh have played in every World Cup since 1999, and their best performance has been a second-round appearance in the 2007 event in the West Indies. In the same tournament, they had defeated India and South Africa. That's about it.
Their performance in the ICC World Twenty20 has not been impressive either. In the first edition, in 2007, they made it to the second round, but got knocked out early in the next three editions.
In this tournament, they managed to enter Super 10s with two wins in the qualifiers. But they also suffered a loss at the hands of Hong Kong. They didn't even come to close to beating the West Indies, India and Pakistan. Their last match is against Australia on Tuesday.
Cricket connoisseurs and former Bangladesh cricketers can't tell what ails this team. After all, there is no dearth of talent and funds; they have a lot of funds and have been coached by the world's best.
"I really don't know (the problem)," says Habibul Bashar, the best batsman Bangladesh have produced. "There is a lot of talent as well as fan following. Also, the facilities have improved. We have the best of coaches, trainers and physios. There is no specific reason," adds the former skipper who scored 3,026 runs in 50 Tests and 2,168 in 111 ODIs.
He, however, says the team lacks consistency. "They have been playing some good cricket and I can't understand why they are inconsistent," he said. Bashar says the team will to develop a habit of winning "The more they win, the more they will benefit. The ICC World Twenty20 is a good platform. Apart from that, there is a lot of pressure on the home team," he added.
Another former captain, Akram Khan, said the side is low on confidence. "Our confidence is low because we didn't do well in the Asia Cup. Then, we lost to Hong Kong after doing well against Afghanistan and Nepal. Some of our good batsmen are going through a bad patch," said Khan, who also served as chief selector.
Khan, who played eight Tests, said there is "no reason to not perform". "There infrastructure is world-class. A lot of boys who train at the academy are doing well. However, I think the players will have to be given some more time (to deliver the goods," he added. How much time?
Bangladesh in numbers
Format P W L Drawn NR
Tests 83 4 68 11 -
ODIs 283 80 200 - 3
T20s 38 11 27 - 0
Bangladesh at World Cups
1999: First round
2003: First round
2007: Second round
2011: First round
At World T20
2007: Second round
2009: First round
2010: First round
2012: First round
2014: Super 10s
At Champions Trophy
2000: 10th place
2002: 11th place
2004: 11th place
2006: 9th place
2009: Did not qualify
2013: Did not qualify