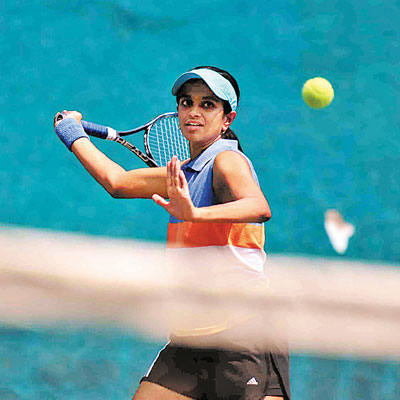 Preethi Ujjini doesn't follow the legends on television, she prefers improvising on the court rather than following one's style. The top seed in the ongoing All India Ranking Women's 1.5 Lac Tennis Tournament, being held at Khar Gymkhana here, turned many heads after clearing the first round on Wednesday.
On Tuesday, the Bangalorean overcame Anushka Sathe 6-2 6-7 in the singles tie and followed up with a win in the doubles category the next day teaming up with Asha Nandakumar. They beat Madhuri Patere and Supriya Zende 6-2 6-3.
"I got a bit too complacent in the second set despite being 5-4 up. Maybe past experience of handling pressure helped me to seal the win. The hiccup yesterday will make me focus better for the challenge ahead," said the 19-year-old.
"I may not spend much time playing doubles but I make sure I give my 100 percent even there," she added.
Preethi has immense support from her parents. Her father – who was a tennis player of the All India Seniors Tennis Association – introduced her to the sport when she was 12. Her mother, who is a dietitian, prepares her nutrition chart.
Ranked 27th in the women's category in India, Preethi will be playing at least 16 tournaments this year to earn the points required to participate overseas.
"It is important to find sponsors if one has to play abroad. International exposure is an absolute necessity. You can see the gulf between the players in the same category when they come here to play the ITF tournaments," said Preethi.