Walmiki brothers teach citymate Rajat Sharma a few hockey moves that come handy for the teenager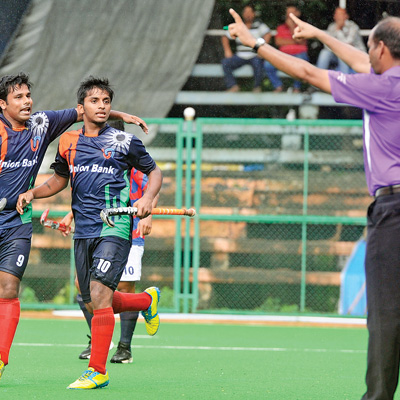 Being the only teenager from Mumbai amongst the 33 probables at the junior hockey camp held in Delhi this April, Rajat Sharma got the chance to learn from citymates — brothers Yuvraj and Devinder Walmiki — who were there as part of the senior national team.
The 19-year-old watched the brothers and even got many inputs from them. On Wednesday at the MHAL, Churchgate, the Union Bank of India midfielder put them to use and scored a goal in his side's 3-0 win over Maharashtra State Police in a Super League encounter that involved speed, trickery and the ability to fool the goalkeeper.
And Sharma gave the credit where it is due. "Yuvraj kept trying the same move again and again in training. The way he starts a move and finishes with a goal fascinated me. The 'keeper thinks you're trying to cross to your teammate or earn a penalty corner, but only you know that you want to score and that's exactly what happened today," says the 12th standard commerce student from Rizvi College (Bandra).
A product of Mezbaan Patel's, known popularly as Bawa, Children's Academy (Malad), Sharma first faced rejection from the coach who has mentored Olympians like Adrian D'souza, Gavin Periera and Viren Rasquinha. "Bawa initially rejected me in the third standard saying I was too short to play hockey," says Sharma.
It was his medal-winning performances for the school in the 4x100 metre that caught the attention of Patel, who decided that it was his speed rather than height that would come in handy in the game.
This is Sharma's first outing in the Super League as he was infected with dengue last year. He made up for lost time and participated in the second division with Bombay Republicans, which led to a call-up to the junior camp in Delhi this April.
"Having been trained by Bawa was the best ice-breaker I could have asked for. Yuvraj was delighted to see someone from his city amongst the juniors. His tips and advice helped me immensely.
"Both the brothers made me feel at home and used to ask me to join them whenever they went out," says Sharma.
About the day he made the cut of 33 from a total of 60, he says, "Yuvraj bhai came up to me and told me that making the cut was the easy part. The tough part is maintaining one's game so that he stays in the squad."
Stopwatch: Union Bank of India 3 (R Sharma, N Kumar, M Pullanthara) bt Maharashtra State Police 0