With players not used to playing on the artificial turf, fatigue is the deciding factor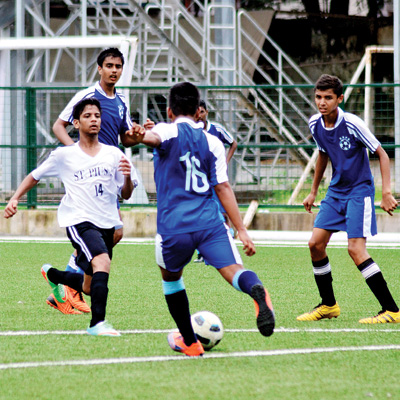 The intention of Mumbai Schools Sports Association (MSSA) to organise football matches in Cooperage might be good and offers a rare experience for students to play on artificial turf, but lack of practise in the ground is affecting performance of youngsters.
A couple of weeks ago, teams playing the semifinals of the U-16 Division One inter-school football tournament complained that they didn't get any practice on the artificial turf at Cooperage, as all of their league games were played at the Azad Maidan's mud ground. Coaches felt that the boys find it hard to adjust to such a big ground. Also, playing on the artificial turf is tiring and as a result, players are exhausted in half an hour.
On Monday, MSSA held the semifinals of the U-16 Division Three at Cooperage ground, and it was the same situation. Thakur Vidya Mandir (Kandivli) beat RSB Arya Vidya Mandir (Juhu) 3-0 in the 2 pm blistering heat. Coach of the team from Kandivli, Lawrence Bing said, "It was too hot for the boys to plays. It's difficult to run for 30 minutes on this ground (Cooperage). My players were extremely tired by the end of the game."
In the second semifinal, St Pius X (Mulund) beat Hansraj Moraji (Andheri) 2-1. St. Pius coach Carlton D'souza said that the teams should have been given to practice on the ground at least a day prior to the match.
"I think that a one day practice session would have been ideal. None of the boys are used to playing on artificial turf. But since none of the teams were allowed to practice, it was fine. In the end, it was like the survival of the fittest."
MSSA general secretary, Sebastian Fernandes said that it wasn't possible to get the ground for the boys to practice. "First of all, the Cooperage officials are doing us a favour by giving us the ground to play the games. We thought we were doing a good thing by giving the children to have the experience of playing on such an iconic ground."