"I am frustrated because I wouldn't want a replay but if that's the choice between going out or staying in the hat, I'll take the replay," said manager Arsene Wenger.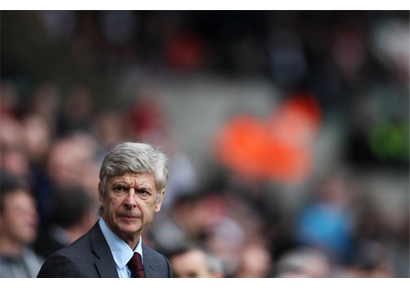 Arsene Wenger was adamant that his side deserved to, and should have won, this extraordinary tie but after a game that encapsulated some of the good, the bad and the plain exasperating nature of his Arsenal, he perhaps ought to feel grateful simply that his side are still in with a chance this season to end their eight-year trophy drought.
After an hour with all the pace and full-bloodedness of a chess marathon, a final contrasting 30 minutes of rip-roaring madness left Arsenal on the brink of elimination until their considerable spirit and resolve, not to mention Swansea perhaps sitting too cautiously on their one-goal lead through the inevitable Michu, saw them sailing towards the fourth round with two searing strikes in three minutes from Lukas Podolski and Kieran Gibbs.
Even then, of course, it was, naturally, not enough. This is Arsenal we are talking about, after all. You never know quite which chocolate you are going to pull next out of the box. So it was that after Danny Graham had equalised with three minutes left, they were left holding on grimly in injury time as the ball fell to Dwight Tiendalli, unmarked on the right edge of the box.
What a moment. Just as he was about to strike, Tiendalli seemed to slip slightly and his shot flew wide. Relief all round, then, for the 1,500-strong visiting army, who must know that this competition, the last one Arsenal won under Wenger in 2005, is their only chance of winning anything this season. Because for any Bayern Munich spies doing their pre-Champions League research, some of the Gunners' predictable defensive vulnerability will have been manna.
"I am frustrated because I wouldn't want a replay but if that's the choice between going out or staying in the hat, I'll take the replay," said Wenger. So he should, because even if another pass'n-play back at the Emirates on January 16 is really the last thing both he and Swansea manager Michael Laudrup needed to put in their diaries - Arsenal could end up playing five games in 13 days - the pressure on him would have been cranked up tremendously again if Arsenal had not responded so thrillingly in those pulsating last 10 minutes.
It could have been worse, of course. To start with, Laudrup must have wondered what all the fuss was about this famous FA Cup as the game flitted by prettily but without much discernible passion. Arsenal, for all their patterns, took 40 minutes to bring any save from Michel Vorm, and only then from the tamest Santi Cazorla shot.
Once again, just as in their last two triumphs over Arsenal, Swansea never looked awed. Kyle Bartley, their pounds 1?million signing from Arsenal after he failed to make the grade with the Londoners, was candidate for being the best player on the pitch in only his second match for Swansea, heading one against the bar in the first half and making a supreme last-ditch challenge on the maddeningly inconsistent Olivier Giroud in the second.
Graham, who gnawed at Arsenal aggressively enough all afternoon to demonstrate to Laudrup that he ought to think twice about off-loading him during the transfer window, also came close before the break with a thunderous half-volley which needed Szczesny's best attentions.
Graham is no Michu, though. The whole complexion of the game changed when Laudrup introduced the totemic Spaniard in the 57th minute. Because of Michu's recent ankle injury, Laudrup reckoned he had had the choice of starting the man whose double sank Arsenal at the Emirates last month and perhaps giving him only 45 minutes or, instead, chucking him off the bench like a second-half hand grenade.
As it turned out, the explosion came after just 73 seconds, an exquisite piece of skill from Arsenal's black-gloved tormentor seeing him loft the ball over the statuesque Per Mertesacker's head, hare off towards goal and still have the composure to slot the ball past Szczesny even as the desperately retreating Laurent Koscielny shoved him in the back. "He scores when he wants," cried the home faithful. And just when Wenger doesn't want, they could have added.
He was already seething that, in the 51st minute, Arsenal had not been awarded a penalty when Aaron Ramsey had been steaming in on goal when seemingly having his heel clipped by Tiendalli. Maybe, but Howard Webb judged the Welshman may have tripped over himself.
"It was a penalty and the referee saw it," Wenger said. "You know why he did not give it, because he thought the guy had not done it on purpose. I think as well it was accidental. But he did not trip himself, he was caught clearly by the leg of the Swansea player. The referee hesitated and he did not give it."
Even Laudrup was inclined to side with Wenger. "On the bench, my initial reaction was it was a penalty," he said, although he added that he had not seen a replay. The game instantly opened up after Michu's goal. Gibbs began bombing down the left flank, creating fresh attacking options. "He gets better and better and had an outstanding game," enthused Wenger.
How Wenger needed this urgency. For with 10 minutes left, it was odds-on, after Theo Walcott had screwed a simple opportunity wide, that Arsenal were going to fail to reach the fourth round of the Cup for the first time in 17 years. They were saved, first, by Lukas Podolski, whose shot on the turn was of high class, and then by a magnificent one-two between Giroud and Gibbs which ended with the full-back thrashing home a left-foot volley of even higher class.
Now, it was Swansea's turn to demonstrate their resilience. Wenger was annoyed at Arsenal's "lack of calmness and focus" at the back when they failed to clear the corner which ended with Ki Sung-Yeung's simple ball freeing Graham to bury it in the roof of the net. The Liberty Stadium erupted; they will fancy making life familiarly uncomfortable for Wenger once more at the Emirates.