The team rose to the lead on the EPL table with a 2-0 win over Cardiff City at the Emirates on New Year's day.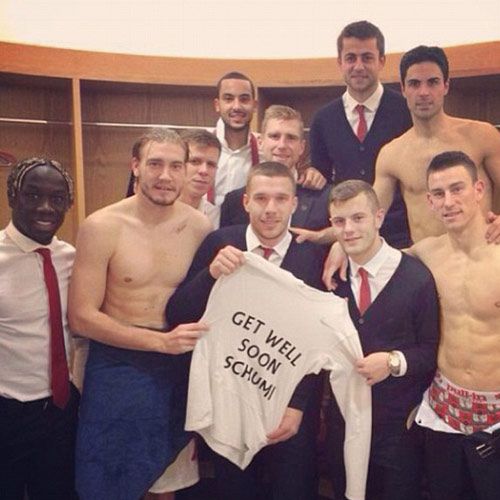 The New Year was a happy day for Arsenal as they managed to stay on top of the English Premier League point table with their 2-0 win over Cardiff City.
At the Emirates stadium, Nicklas Bendtner and Theo Walcott scored last-gasp goals to seal the win.
Manchester City finished a point behind Arsenal in second place, with Chelsea a point further back in third after a 3-0 success at Southampton.
After the win, the team called 'Gunners' by their fans returned to their locker room to pose for a picture with a white sweater that had a 'get well soon' message to Michael Schumacher.
The picture featured Sagna, Bendtner, Szczesny, Walcott, Podolski, Mertesacker, Wilshere, Fabianski, Arteta and Koscielny.
The message was posted to Instagram as news came in that the F1 legend who met with a skiing accident continued to remain in coma and critical but was getting better.
As the world prays for the Schumacher fondly called 'Schumi' by fans, the Arsenal team showed their support as well which was a message that went viral on the video sharing space.