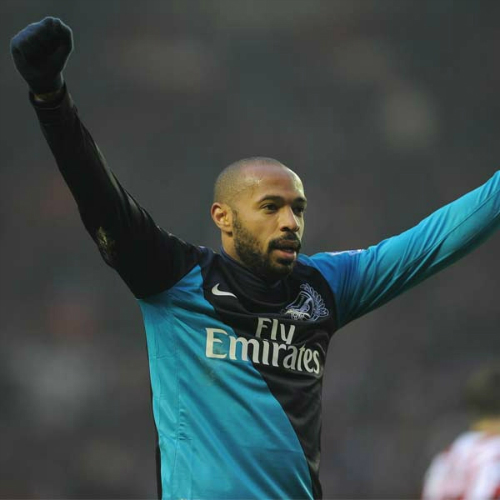 As the French footballer and Arsenal legend Thierry Henry turned 37 on August 17, we at dna would like to wish him a very Happy Birthday and many more goals. The French striker was first noticed in 1990 by French first division side AS Monaco where he signed instantly when he was just 13 years old. In 1994 he made his French first division debut for Monaco against Nice and they lost 2-0. At that time he played under the-then manager Arsène Wenger, now manager of Arsenal. He won the French League with Monaco in the same year scoring nine goals in 36 matches. The skillful striker won his first cap for France in a World Cup warm-up match against South Africa.
He was a part of France's 1998 World Cup winning squad, scoring three goals in the first round, and beating Brazil in the finals.
Henry joined Arsenal on August 3, 1999 for a club record fee of £11 million at the time, from Juventus. It was at Arsenal that he started playing as a striker converting from a winger. After that, the former Arsenal striker stayed on with the club for eight years scoring 228 goals going on to become one of the greats. His name became synonymous with the club. He emerged as the top goal-scorer for almost every season in the English Premier League. He became a world class striker under the mentorship and tutelage of long time and current manager Arsene Wenger.
Henry won two league titles and three FA Cups with the Gunners
Was nominated for the FIFA World Player of the Year twice
Was named the PFA Players' Player of the Year twice
And the FWA Footballer of the Year three times
Henry spent his final two seasons with Arsenal as club captain, leading them to the 2006 UEFA Champions League Final
He was also voted Football Writers' Association player of the year
He left Arsenal In June 2007 to move to Barcelona. In 2010, he joined the New York Red Bulls of the Major League Soccer. He returned to Arsenal on loan for two months in 2012. In 2013 Henry with the New York Red Bulls won the MLS Supporters' Shield.
ICYMI: Classy video on @ThierryHenry by @MLS. 'Thierry Henry: Legend' - MLS Insider Presented by adidas #MLS http://t.co/kpFVEVHZlw

— B Larsen | Arsenal (@BLarsenAFC1886) August 18, 2014