Rising Indian golfer benefits from practice round with two-time Major winner Marin Kaymer * Will tee off his second British Open with Japan's Koumei Oda and USA's Ben Martin at Royal Liverpool today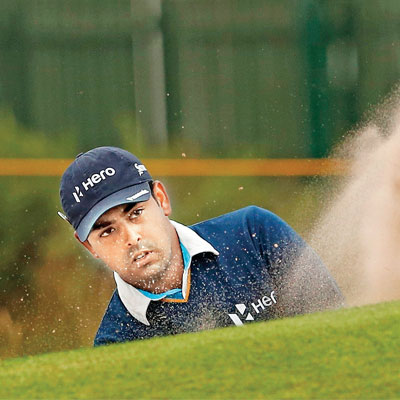 Anirban Lahiri will surely benefit from a peek into the German psyche after his final practice round with two-time Major winner Martin Kaymer, whose results for the year include the US Open and the Players Championship.
Having just recovered from mental fatigue and slight fever on Tuesday, Lahiri finished his final practice round just before the rain came down. He then pronounced himself as "fit and ready to go" on Wednesday afternoon. "It was great chatting with Martin (Kaymer). He was so easy to get along with. We chatted as if we have known each other for so long," Lahiri said of the World No. 12. "And we did discuss the course, too, as is only natural. He gave his views and they were useful. It was a great round of golf. It was awesome fun. He's a nice guy and very down to earth. Obviously, he is a fantastic player. Naturally, we spoke a little bit about football and Germany's win (at the FIFA World Cup)," Lahiri added.
A 400-1 outsider, Lahiri is ever ready to learn from whoever he can. He also benefitted from Ben Curtis, the 2003 Open winner, joining the group in the practice round over the last few holes. Curtis began the 2003 Open as a rank outsider at 300-1 and stunned the golfing fraternity with a superb win at Royal St George's and beat the field by two strokes. Also coming to meet them at the 18th was Thomas Bjorn, who was tied second behind Curtis in 2003.
Earlier, Kaymer, when asked to define German character, called his countrymen as "disciplined and respectful". He then added, "I'm not talking only about being respectful towards people, (but also) being respectful towards the sport that we play. So the values that Germany, and especially my parents, taught me, I hope that I can pass them on to my children one day."
Then, he paid Asian players a huge compliment, saying, "At the end of the day, it's just the discipline and the will that you have. If you see a lot of the Asian guys, they are like this, too, very disciplined, very respectful people. And they don't talk much. They just make things happen."
Lahiri has gained a lot from being patient as he himself admits, "My career graph has been on the upper trend but it's been bumpy. I've relied on meditation throughout this period which has helped me a lot. I have to try really hard to stay calm. It's not something that comes naturally to me. As a kid, I had major anger management issues and anxiety issues. Having learned to overcome that, it's my tendency to fall back on that and I have to work really hard and stay conscientious on that."
Indian golfers make for great stories at the Open. Or so it seems. Ask Lahiri, who had to literally pull out of his honeymoon to get to Hoylake. And in between, he lost some valuables, including an old passport with a US visa stamp.
Two years ago, Lahiri made his Open debut at Royal Lytham and St Annes and landed a hole-in-one, earning media coverage around the world and posting the best finish by an Indian at the Open.
In Muirhead last year, Shiv Kapur came through the sectional qualifiers and then led the field with six birdies in seven holes on the front nine on the first day. A year before that, in 2012, Jeev Milkha Singh made a last-minute dramatic entry into the Open by winning the Scottish Open in the preceding week.
Lahiri will tee off at his second Open in the company of Koumei Oda of Japan, with whom he was teammates at the EurAsia Cup. "Playing with him will help revive good memories from EurAsia where we had a great match with Europe," he says. The third player is Ben Martin of the US, a young player who made it to the Open by finishing third at the Quicken Loans event on the PGA Tour less than 10 days ago.