Scot destroys Sousa in the heat and then hits back at Belgian's claim that drugs are widespread in tennis.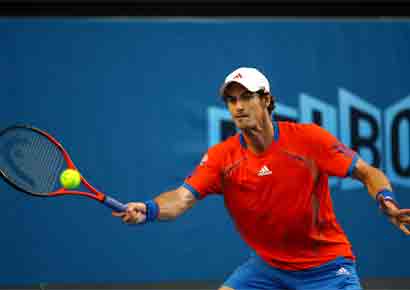 After clinically disposing of Portugal's Joao Sousa on Thursday in 40-degree heat, Andy Murray insisted that his extraordinary physical conditioning was the result of hard work rather than anything pharmaceutical.
The issue of doping in tennis was the talk of Melbourne Park after Christophe Rochus, a Belgian player who had been ranked as high as 38 in the world, gave an interview to a newspaper in his home country claiming that the practice was widespread.
Rochus made no allegations about individual players, but suggested that the authorities might as well give up and legalise performance-enhancing drugs. "There's a lot of cheating," he said. "Simply, people don't like to talk about it. I simply would like to stop the pretending. This hypocrisy is exasperating."
But Murray took issue with Rochus's claim that "it's inconceivable to play for five hours in the sun and come back like a rabbit the next day". He said: "I would say that is far from the truth. Anyone can see the amount of hours of training and practice that go into what we do and there are other sports that are endurance-wise far more challenging.
"When guys play five or six hours in the slams, we have a day's rest. I was told that after our semi-final here last year [which ran only 10 minutes short of five hours], Novak [Djokovic] didn't practise on the day off, didn't hit a ball, didn't get out of bed till three o'clock.
"Providing you put the work in, it doesn't mean it hurts any less when you have to play a couple of days after a five-hour match. But I would not say it is impossible."
There were plenty of mind-bendingly punishing matches at the Australian Open yesterday, as the temperature peaked at 40.8C.
The longest was Blaz Kavcic's five-set victory over James Duckworth, one of only two Australian players still standing at the start of the day, which took 4hr 52 min. As the players returned to the locker-room, Kavcic collapsed into the foetal position as he suffered a full-body cramp and had to be treated with morphine.
But Murray made short work of Sousa, the Portuguese No?1, in a match that started at 1pm. This was a day when you wanted to get on and off as quickly as possible, and the Scot did exactly that, bullying his opponent with his serve and forehand.
Murray struck 14 aces in the match, finding a particularly good rhythm with the one that goes curling away down the 'T' and leaves the receiver groping like a batsman facing an outswinger. Then he came into his press conference wearing a T-shirt with the legend "Prepare, Attack, Destroy". Which is exactly how he goes about his tennis these days.
His next opponent will be Lithuanian Ricardas Berankis, who fought his way through qualifying and was a surprisingly comfortable winner against 25th seed Florian Mayer yesterday. Berankis won in just 77 minutes, coming through 6-2, 6-3, 6-1.
A former world No?1 junior, Berankis is now 22 and has suffered from a long-term groin injury that he has finally shaken off. British tennis fans may remember him with a groan, for he was the key player in Lithuania's notorious Davis Cup win over Great Britain in Vilnius three years ago.
"I actually hit with Ricardas a lot," Murray said. "I trained with him before the Australian Open last year. I practised with him in Brisbane and I practised with him a couple times before the tournament here.
"He is not that tall and he hits the ball pretty big from the back of the court. He plays aggressive. He's a very flat hitter of the ball. He's obviously playing well to beat a guy like Mayer that comfortably."