US Open champion keen to concentrate on the next match and not worry about topping the world rankings.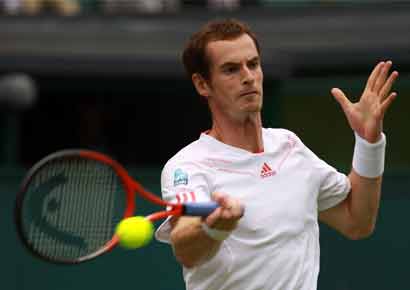 Andy Murray says he is wary of becoming too obsessed with raising his ranking to No 1 in the world, for fear that he might lose focus on the day-to-day business of winning matches.
The US Open champion also told reporters on Tuesday that the top spot on the rankings ladder was out of reach until next season at the earliest, given that he would have to raise his points total of 8,090 by almost 50% to overhaul the two men ahead of him, Roger Federer (11,805) and Novak Djokovic (10,970).
"It will be very difficult to finish the year as the world No 1," Murray said. "There's a few tournaments between now and the end of the year I'd like to do well at and I always enjoy playing here. I will try to do as well as I can between now and the end of the year. If I do that, there's a possibility to get to No 1 next year.
"I think getting to No 1 in the world, that's more a reward for playing very good tennis throughout the whole season at pretty much every tournament you play. You need to focus more on the process and not so much just No 1, No 1."
But Murray, who begins his attempt to win a third consecutive Shanghai Masters crown with a second-round meeting match against Florian Mayer of Germany today, reiterated his belief that having finally ticked off his maiden grand slam title at Flushing Meadows, he should now be able to maintain a steadier level throughout the tennis calendar.
"The US Open hasn't changed me," he reflected. "I haven't felt so different, although I felt a lot of relief. It was a big weight off my back at the time. So getting on the practice court, getting in the gym and stuff, has probably become a bit easier.
"I hope it gives me some more confidence when I'm on the court. That's the one thing that I hope I would have got out of it.
"I lost in Australia and straight away I'd be thinking about the French Open and Wimbledon, which wasn't necessarily the best thing for the tournaments I had coming up," he said.
"I'm hoping to be focused a lot more and not just looking at the next grand slam. I need to try to play well in all the tournaments I'm in.
"The next grand slam in Australia is obviously a focus that would be not that far away, but I would say it's more of a long-term goal."
Elsewhere in Shanghai, seventh-seeded Juan Monaco was upset by fellow Spaniard Fernando Verdasco 6-4, 6-2, while John Isner saved three match points before beating South Africa's Kevin Anderson.
Meanwhile both Laura Robson and Heather Watson moved into the second round of the Japan Women's Open in Osaka, scoring straight-sets wins over Eleni Daniilidou, of Greece, and Polona Hercog, of Slovenia, respectively.
If Robson can win her next two matches, starting against qualifier Yi-Miao Zhou of China today, she can be -confident of breaking into the top 50 next week for the first time. Watson faces a tougher fixture today against Anabel Medina Garrigues, of Spain, the world No 40.