ONGC rue missed chances, held goalless to finish second best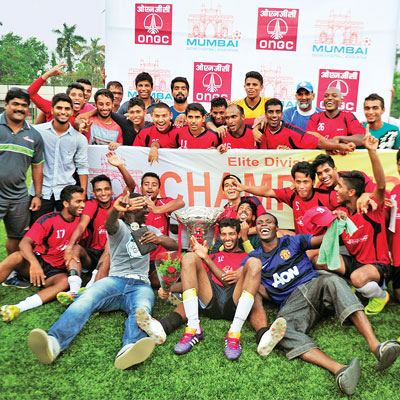 Their coach told them in simple terms – 'do not lose'. That's exactly what Air India did to be crowned champions of the MDFA elite division league. They played out a goalless draw against defending champions ONGC at the Cooperage on Monday.
With Air India on 12 points and ONGC on 10 points, ONGC went into the match knowing well that nothing short of a win would give them the title. With Air India missing four players including the Nigerian forward duo of ND Opara and Okorogor Praise due to suspension, ONGC must have thought that they stood a good chance.
But former India player and coach of Air India Godfrey Pereira is no stranger to difficult situations. This time, he decided to start with Nigerian Emanuel Aja in the defence. Aja has not started a single game before Monday. The change worked as he was instrumental in keeping the ONGC strikers at bay.
Air India started on the offensive but could not maintain it for more than five minutes, after which they decided to pass the ball around in their own half and tire the opposition.
The first real attempt at the goal came in the 41st minute when ONGC midfielder F Lalmuanpuia tested Air India goalkeeper CK Ubaid. with a swerving free-kick from the right. But Ubaid was up to the challenge and made no mistake.
The start of the second half saw ONGC bring on dead-ball specialist Jatin Bisht. That looked to be a good move as they enjoyed plenty of possession, but sadly weren't able to break the deadlock.
ONGC looked a formidable unit until they were reduced to 10-men when Lalmuanpuia tripped the goalkeeper only to be shown a second yellow in the 75th minute.
With five minutes left for the final whistle, ONGC went for the kill but Kailash Patil and Warundeep missed headers. They were left to rue their missed chances as the referee blew for the final whistle.
After the draw, Pereira said, "It's an awesome feeling to win the tournament. Our hard work has paid off. The opposition was going for the win, and they were constantly piling pressure on us. Our main focus was to defend and not concede, and that's what we achieved, but I never asked the team to sit back and absorb the pressure. We could have scored a goal or two had we taken our chances."
Western Railways stood third with nine points. Air India won the cash prize of Rs1 lakh, ONGC got richer by Rs50,000 and Western Railway, Rs 25,000.
Stopwatch: Air India 0 drew with ONGC 0