Indian golfer braves fever to manage second straight 75; Irish star takes three shot lead over Molinari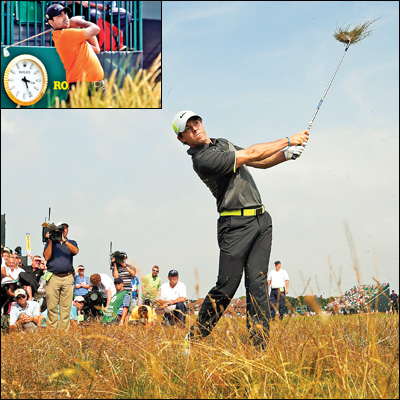 Anirban Lahiri battled fever and body but the thrill of walking down the final 18th fairway and see the Indian tri-colour fluttering in the skyline drew to brave illness and play the second round. Despite drawing on all his will-power, Lahiri managed only a second straight 75 and bowed out of The 143rd Open Championship on Friday.
Meanwhile at the top Rory McIlroy, who saw his lead being protected by the windy morning made light of the bogey on first and ran up three birdies on the front nine to get to eight-under and added another on 10th to get to nine-under and open up a three shot lead over Francesco Molinari (68-70), Ryan Moore (70-68) and Rickie Fowler.
Morning hero, Gerry Coetzee (69), Jim Furyk, Sergio Garcia and Louis Oosthuizen were all at five-under.
The current Asian Tour Order of Merit leader contemplated pulling out before the start of his second round at Royal Liverpool after struggling to shake off the effects of viral fever, which has lingered since the start of the week.
The 27-year-old Lahiri, who had had fever since Monday evening, but still practiced had been on medication. "If it was any other tournament, I may have pulled out," said Lahiri.
"I had bad fever and body ache and I was contemplating at one time whether to play or not, (but) because I wanted to walk down the 18th and see the Indian flag, I decided to tee up," said Lahiri.
"My manager and Bradleys chatted with me and put me in the right mood to play. I wasn't sure if I was going to finish the round. Around the 7th or 8th I was feeling bad, but I am glad though that I played. It was a great learning experience," he added.
"I spoke to my father. I have had fever since Monday. It has to be some viral. I keep getting body ache and shivers. It keeps returning every night, and I have seen it before and my Dad diagnosed it. I took paracetamol and brufen and that helped me to two play at least 2 days."
Lahiri finished with a justified reward in the form of a birdie on the 18th to card a second successive 75 but his total of 150 was not enough to keep him on for the weekend. "That birdie at the very last was some compensation. I had felt disappointed at not being able to get a birdie at either 16 or 18 yesterday. I made up somewhat today," said Lahiri, "but it was tough to keep going today."
He concluded, "The two Opens I have played have been contrasting. I sure want to come back and use my experience. Meanwhile I have to recover quickly and get some rest and get ready for PGA.
Lahiri had bogeys on the third and fifth but got birdie on the seventh, making up for the double he had there in first round. A double on ninth saw him turn in three-over, but despite sagging energy levels, he string together six pars before a bogey on 16th. A closing birdie on 18th saw him finish at 75 for second day running.
The British Open once again showed that no other Major is as affected by the weather as the wind blew along the shores of River Dee running along Hoylake. By the afternoon, the wind was kicking up and made things even tougher.
In the morning, Coetzee celebrated his 28th birthday with a superb display in tough conditions to card three-under 69 and get to five-under 139 for two days. There were two other notable performances Robert Karlsson (71) and Adam Scott (73). Karlsson was now four-under for 36 and Scott and Marc Leishman (72) were three-under for two rounds.