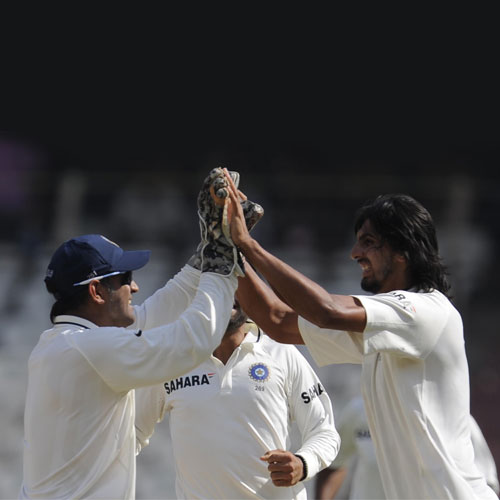 True nobility is exempt from fear. India proved that and more at the Wanderers here on Wednesday. If MS Dhoni's decision to bat on a green-top in the first Test was a ridiculously bold one, then Virat Kohli's innings against South Africa's four-man pace unit was brave beyond belief.
Becoming the first man to occupy the No. 4 spot graced by Sachin Tendulkar for years, Kohli fought fire with nerves of steel before unleashing his own brand of daredevilry as India finally turned up on this tour. And by the time the umpires called time on Day One, India were on a healthy 255/5.
Given that India are going through an exigent phase of transition, this sojourn was supposed to be a test by fire. Not any more. On a sunny and engaging day of high-quality cricket which clearly belonged to Kohli and his defiant 119, India banished the demons of the ODI series by making a loud and clear announcement that there were here to compete. They lost Shikhar Dhawan (13) and M Vijay (6) in the first hour, but Kohli turned the tide with defining partnerships with Cheteshwar Pujara, who consumed 98 deliveries for his 25, and later Ajinkya Rahane, who ended the day on 43 looking good for more.
Kohli's stand with Pujara was all about rebuilding the innings. Ignoring anything bowled at a good length on or outside the off stick, the duo batted for time. Morne Morkel's nasty bouncers and Dale Steyn's nagging out-swingers were dealt with respect, but the moment they strayed in line or length, the ball raced to the boundary. Recovering from 24/2, India took lunch at with the score on 70.
The duo displayed more of the same maturity after the 40-minute break, taking the score past the 100-run mark, but a horrible mix-up brought the end of Pujara. Leg-spinner Tahir, who looked ordinary all day, bowled on middle stump. Kohli worked it towards midwicket, called for the run, took off and then retreated to the crease. But by now, Pujara was so close to Kohli they could have shook hands. Tahir threw the ball to Hashim Amla who coolly took off the bails to end the 89-run stand. Kohli, then on 65, looked determined for more.
'Leave' was Rohit Sharma's watchword, too, but after 41 balls and just 14 to his name, the ODI batsman in him attempted an extravagant drive off Vernon Philander, only to be caught behind.
Kohli then found an able ally in Rahane, who feasted on Tahir by smashing him for three boundaries in the space of five balls.
Resuming after tea on 84, Kohli went about his business with sincerity before the introduction of JP Duminy provided him with easy pickings which eventually took him to the magic number. Kohli and Rahane, who also adopted his partner's methods, took India past the 200-run mark. Minutes after the final drinks break, India lost Kohli against the run of play, the batsman driving a Kallis delivery into the hands of Duminy at cover. Dhoni (17*) and Rahane then saw off the remaining 14 overs.