Mumbai go down for second successive day in West Zone league of Mushtaq Ali Trophy.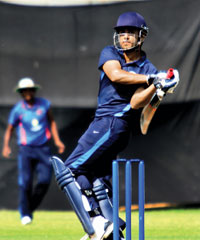 No sooner had the last ball been bowled in the Mumbai-Gujarat match than the visitors' selector Abey Kuruvilla left the ground.
Probably, Kuruvilla's reaction stemmed from his team's second successive defeat in the Syed Mushtaq Ali T20 West Zone tournament on Monday.
Having lost to Baroda the previous day, the Abhishek Nayar-led Mumbai went down to hosts Gujarat by 20 runs, almost ending their hopes of making it to the knockouts. Mumbai, after allowing Gujarat to score 193/5, managed only 173/6.
Nayar took a gamble by tossing the new ball to left-arm spinner Ankeet Chavan after Gujarat decided to bat first. Parthiv Patel's decision almost seemed to have boomeranged when Asad Pathan returned for zero.
However, Gujarat's two most experienced batsmen, Parthiv and Niraj Patel, provided the stability with a 67-run partnership for the second wicket. The stand ended when Parthiv mistimed Chavan while attempting to hoick him over long-off, where Parthiv's opposite number Nayar picked up an outstanding catch.
Manpreet Juneja joined Niraj in middle and celebrated his IPL contract with Delhi Daredevils in style. He showed no mercy and made Dhawal Kulkarni and Aavishkar Salvi look ordinary. Juneja struck nine boundaries and two sixes in his unbeaten 38-ball 71. Niraj (51) played second fiddle and completed a deserving half-century.
When Mumbai replied, Aditya Tare and Shoaib Shaikh made an earnest effort by sharing 44 in under five overs. However, they lost wickets at regular intervals. Tare top-scored with 47 while Siddarth Chitnis stayed unbeaten on 36. Nayar chipped in with 29 but they were not enough to see Mumbai through.
"We have good depth in batting. Everyone is able to handle pressure. So, despite Asad's failure, the middle-order was able to post a match-winning score," victorious captain Parthiv said. "In this format, 2-3 good overs can change the game, and I am glad it happened to us."
With the absence of Ajit Agarkar, Zaheer Khan and Rohit Sharma, Mumbai has become a lacklustre side here. Making their mediocre performance even more embarrassing was that it has come in the presence of head coach of Mumbai Indians, John Wright. Tare, Kulkarni and Suryakumar Yadav represent Mumbai Indians in IPL.
@DNA