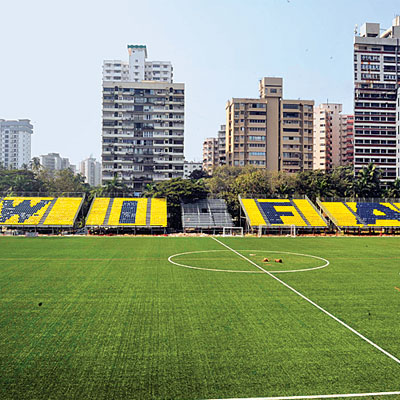 After three years of renovation work, the Cooperage Ground in Colaba is all set to see professional football played on it's turf today.
The Mumbai District Football Association is holding the play-off games of Elite Division at the iconic stadium, with the first game to be played between former champs, Air India and RCF.
But drawbacks are somewhat synonymous to Mumbai football. This time, it's the spectators who will have to suffer.
The MDFA committee has announced that supporters won't be allowed to sit on the newly-built stands since the stadium hasn't obtained the necessary clearance by the fire department which wants the stadium to have a tank capable of storing 75,000 litres of water in case of a fire. The committee has decided to put chairs around the fence so that a few people can sit.
The players and coaches don't seem to care much about the spectators not being allowed. Conrad Pereira, coach of Mumbai Customs says, "Everyone is just happy that the League is being played. It is better than not having the League at all." One may recall that the Elite Division was cancelled last year and the unavailability of grounds was cited as the reason. This year too, the group stages had to be played at four different venues in Mumbai.
Air India, who played in the I-League last year look a confident side going into their first play-off game. They haven't lost a single game in the group stages, winning 5 and drawing 1. Their coach Godfrey Pereira believes they stand a good chance to lift the title. "We have an excellent team that is capable of winning any tournament in the city. Also, playing at the Cooperage will be a boost since the turf is not uneven like the grounds we've had to play the group stage games."