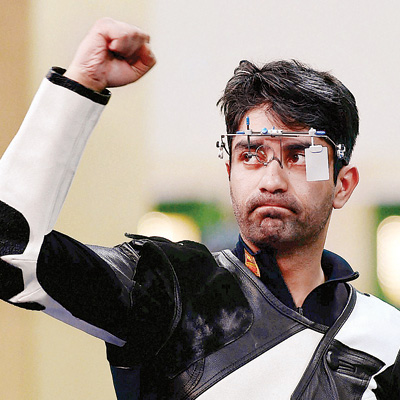 His place in Indian sports history already secure, Abhinav Bindra wrote finish to yet another chapter of a career that seems to have only a few more blanks to fill. On Friday, the 31-year-old Bindra won his fifth gold in his fifth Commonwealth Games, but the first individual one, after three gold in 10m Air Pistol Pairs and one in 50m Rifle 3-Positions.
A little before Bindra shot in his final CWG, 16-year-old Malaika Goel made a stunning debut with a silver medal, even as her more favoured teammate, Heena Sidhu, a former World No. 1 and now World No. 4, floundered to a seventh place in the final. Malaika She lost to Singaporean Shun Xie Teo by a now 1.5 margin, as her 17th and 19th shots let her down with 9.2 each. She totaled 197.1 to Teo's 198.6, a Games record.
On Thursday night, Sukhin Dey and Ganesh Mali won the gold silver in men's 56kg to boost Indian tally to two gold, three silver and two bronze for a seven-medal haul on opening day.
While there are some more medal possibilities on Friday, India's tally stands at three gold, four silver and two bronze.
A journey, that started in Kuala Lumpur, 16 years ago, came to a fairy tale ending with a gold medal for Bindra at the Barry Buddon Shooting Range on Friday. His compatriot, Ravi Kumar, who led for a good part of the final, slumped suddenly to finish fourth and out of medals.
Overall, he has nine medals in a Commonwealth Games career that started as a 15-year-old in Kuala Lumpur.
Bindra, on Thursday, tweeted that it would be his last Commonwealth Games, but he was tightlipped on other assignments.
His fifth appearance at the Games came on a winning note and it also meant his first individual gold medal in his favourite event, the 10m Air Rifle, the event which provided him and the country their first
Bindra said, "This is my last Commonwealth Games. Five CWG and nine medals." That includes five gold. "It is enough for me."
Though his twitter handle mentions, '2016 Olympic medal wannabe' Bindra, queried about Rio said, "I will take on thing at a time. I will decide later. I will relax a bit and then focus on the World Championships a few months later."
On his Friday's performance, he said, "It was a well-earned medal because I work hard and I am happy to have achieved the feat. I got the desired result," he said.