Yuvraj Singh, who was bought by RCB for a whopping Rs 14 crore, has shown signs of revival but the southpaw still has some distance to go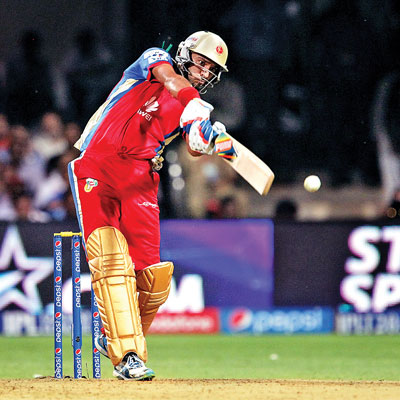 The problem, so to speak, with the IPL is that every time a cricketer hits a lean patch, critics invariably talk about his auction price along with his poor scores. And Yuvraj Singh must be the player who must have been thus reminded most about his price tag.
Unlike while representing one's country, when a cricketer fights back in the league, apart from justifying his place in the team he is also trying to prove his worth — literally. And it was almost ironical for the better part of IPL-7 that the costliest player was proving to be a costly mistake.
Yuvraj Singh went to Vijay Mallya's Royal Challengers Bangalore at a whopping Rs 14 crore. What followed was not a string of fairytale knocks in the middle. Instead, he was the butt of jokes in the virtual world.
Many were surprised and took to humour not only because Mallya was not paying the pilots of his now-defunct airlines but also at Yuvraj who did not warrant the amount. He was struggling and was on the verge of being out of the Indian team in limited-overs cricket.
On top of that, his bad form in the World Twenty20 in Bangladesh prompted many to exclaim that he be dumped forever. Off six games, he scored just 100 runs that included a scratchy 43-ball 60 against Australia. The 21-ball 11 in the final against Sri Lanka even prompted some fanatics to pelt stones at his house.
Coming to the IPL, Yuvraj continued his struggle. The ball was not coming on to the bat and he looked ugly if he was beaten. However, he carried on fighting biding time in the middle, but things weren't going his way. After getting a half century in the first game against Daredevils in Sharjah, he got a couple of 30s, none of them convincing.
Eight games later, something changed. Against Rajasthan Royals last Sunday, Yuvraj was a different man. He batted like a man possessed and was in an ultra-aggressive mode appearing to be on a mission to save his reputation. The southpaw smashed seven sixes and an equal number of boundaries in his 38-ball 83. He followed it up with a four-wicket haul. Although Rajasthan won that game by five wickets, the knock signalled Yuvraj's return to form.
What followed two days later was another massive knock with nine hits sailing over the rope. His 29-ball 68 was enough for a strong total against Daredevils that saw RCB win the game by 16 runs. Two good innings do not a revival make and they pale when compared to his price tag. But the two matches show that he is on the right track to get his blistering form back.
His RCB teammate and cricketing great Muttiah Muralitharan was all praise for Yuvraj and felt that he would play a big role in the 2015 World Cup in Australia.
"He is a great limited-overs player, but his confidence was low. After the World Twenty20, the whole country put a lot of pressure on him. I know the situation well as I played for 20 years at the highest level. I knew it was just a matter of helping him regain his confidence," Muralitharan told iplt20.com.
"I was sure once he did that, he would be a different player. And after the way he has performed in the last two games, it seems I was right. I honestly think Yuvi has still got it and India should look after him because I feel he will play a big role in the 2015 World Cup. He will be India's match-winner there," the Lankan wizard added.
So what prompted Yuvraj's sudden revival? Former India Test opener and expert Aakash Chopra said, "I think it is a mental change. He was biding time earlier, trying to build the innings, but it wasn't happening.
But these two times, I think he came with an attacking and aggressive mindset and everything might have fallen in place. Earlier, he was leaning and the back lift was not high because of which his bat speed was low. However in the last two innings, he stood upright which gave him time and a high back lift that resulted in good bat speed and time," said Chopra.
Chopra, however, chose not to compare Yuvraj's World Twenty20 performance and IPL outings. "The IPL is slightly different. The pitches are ideal for batting here, quality is different, grounds are smaller, the pace is not that great. Things weren't going great then during the World Cup for him, but now he is finding the form with the ball coming on to him nicely. At times, it is a mental change. He is going into the game with an aggressive mindset and hitting the ball well. Fortunately things are coming good," he added.
Are these signs of him returning to form and making a comeback into the Indian team? "We should enjoy his batting and what the guy is doing without drawing any conclusions. It is the selectors who have to take a point of it. We should enjoy his batting as he makes it look so easy and beautiful when in form," said the veteran cricketer.
And if Yuvraj continues the way maybe the focus of his critics will shift from his price tag and that for now will be a big relief for him.
Yuvraj in IPL so far
Mat Runs HS Ave SR 50s 4s 6s
10 295 83 36.87 141.82 3 17 24
Yuvraj's best
68 (29b, 1x4, 9x6) vs Delhi Daredevils
83 (38b, 7x4, 7x6) & 4/35 vs Rajasthan Royals
52 (29b, 3x4, 5x6) vs Delhi Daredevils